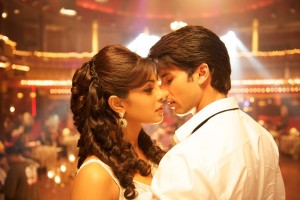 After playing an astonishing, almost record breaking 12 characters in the surprise flop, What's Your Raashee?, playing 3 characters in the forthcoming Teri Meri Kahaani should be a doddle for the original 'Desi Girl', Priyanka Chopra.
About her characters, in particular Aradhana – her 1910 character, Priyanka states, "It was tough for me to play Aradhana because there was no reference point for it except some books. Kunal managed to get some sketches of the women from that time and Manish Malhotra designed my costumes by looking at those pictures. I play a Punjabi girl from Pakistan and I had to develop a typical accent by reading those books."
Ask her about how her rumoured on-off boyfriend is as a co-star she gushes, "I feel, Shahid is the best co-star to work with. It's the second time we are working together and it feels great to work with him again."
It seems PC has a great relationship with everyone she works with, but how did TMK come about? "Kunal and I always wanted to work with each other. He had come to me with scripts earlier but I could not do them as I had other commitments. The best thing about him is that he believes in his characters and knows how to extract the best out of actors. There is always a pleasant atmosphere on the sets whenever he is around," Priyanka cheerfully says.
What was working on the sets like? PC claims, "It was lovely. Especially at Nottingham (University), because it was such a campus atmosphere. All we did was, the whole crew just hung out and we'd wrap at six and we'd go out every evening. It was really fun because the atmosphere was really young and even Stratford-upon-Avon, at the university. The film is all about two people in university which is why it was really fun to actually be in the real atmosphere. The whole film is really memorable. Kunal, Shahid, me and the whole crew were just laughing, going out, just annoying each other."
With all this goofing around, how did the film actually get made? "I don't know when we did the work. Somewhere in the middle of it all I think the movie got made. It will always be really memorable for me."
What about the constant rumours about her linkups and breakups, does it still affect the established actress? "Yes, it affects me. I still feel bad when unnecessary things are discussed. Think from a regular girl's perspective. How would she feel if her talking to guys is questioned? If she is generally chatting up with a boy and it is assumed each time that she will get married to him. It is just annoying," she states matter-of-factly.
Priyanka furthers adds, "I think people forget that I am a girl who is sensitive to such things and may get hurt in the bargain. They just remember that I am an actress and probably that's why they discuss me so much. People say one gets used to it after a point on of time, but no, I haven't gotten used to it. I think it is very rude to discuss such things."
Hopefully PC will learn to grow a thick skin like most in the industry have, but only time will tell.