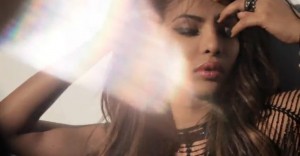 Priyanka Chopra will be the first Indian celebrity to feature on the American show; X Factor. Since releasing her debut single In My City Priyanka has gained a lot of attention internationally. Travelling to Los Angeles has become a regular for her to continue on working on her album.
Sources close to PC tell us "Priyanka has been interacting with the international media as part of the promotions for a while now. As a result, people in America now have a fair idea of who she is".  When shooting on the show it didn't take long for the audience to recognize her. PC even became friendly with creator Simon Cowell who is known for his outspoken comments as a judge from American Idol.
The actress is taking it in all so well with still getting attention for her acting in Barfi and with fans asking her to release another song which may be on its way. As for now the song is becoming quite popular with over 400,000 views on YouTube and increasing every day.