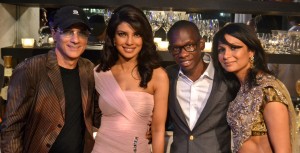 She is considered one of the best actresses in Bollywood today but did you know that Priyanka Chopra can also sing? She can and not just in the shower! It seems this beauty has a beautiful voice, is a trained Western Classical singer and has now landed an international record deal! Universal Music Group (UMG), the world's leading music company, and Desi Hits! (www.desihits.com), the world's premier East / West fusion entertainment platform have signed a worldwide recording agreement with the actress.
"It has been a long cherished dream which is finally coming true", said Priyanka Chopra about her music debut. "I am truly excited to have an opportunity to present my musical dimension on a world platform. I am privileged to be a part of the Universal Music – Desi Hits! family and to be working with some of the most illustrious names in the music industry. This is a fascinating new experience for me and I am thoroughly enjoying the journey", added Priyanka.
Priyanka is currently in the studio, writing and recording her debut pop album, which will be sung in English. As part of this global deal, Priyanka will release her highly anticipated debut music album in North America with Desi Hits through Interscope Records and in other International markets on Island Records UK. Troy Carter, CEO of Atom Factory, who also manages Lady Gaga has signed with Priyanka to manage her music career across the globe.
Priyanka is also the first major international signing for Desi Hits, which was founded by Anjula Acharia-Bath in partnership with UMG in 2010 as the preeminent home for highly creative artists with Indian/South Asian roots. Ms. Acharia-Bath, the Chief Executive of fusion multi-platform media company Desi Hits!, flew to India with UMG UK Chief Executive David Joseph to sign on Priyanka. "Priyanka is an international superstar who has captivated millions around the world. Her foray into the American music industry meets the vision of our company, which strives to fuse the best of the eastern and western culture to create magic. It's truly a dream come true, and we are very excited to bring this multi-talented artist to the rest of the world," said Anjula Acharia-Bath, CEO of Desi Hits!
"Bollywood has had Priyanka to itself for too long," added David Joseph, Chairman and Chief Executive of Universal Music UK. "She has exceptional talent and we look forward to launching her recording career around the world."
Jimmy Iovine, Chairman of Interscope Geffen A&M Records stated, "Pop music has always had a love affair with Indian culture and with Priyanka's unique talent and experience, we have the opportunities to push the boundaries of popular culture," "I feel this is an amazing opportunity for all of us." For those of you who watch American Idol, you will recognize Jimmy Iovine's name as the mentor to the aspiring singers on the show.
"We believe wholeheartedly in Priyanka's talent, drive, and creative vision," stated Anthony Saleh, Executive Vice President and General Manager of Atom Factory. "We are confident in Priyanka's ability to redefine pop music on her own terms"
Her music debut will add another dimension to this actor, humanitarian, green crusader and brand ambassador. Priyanka Chopra, one of the most recognized talents in Indian cinema, is a recipient of the prestigious Indian National Film Awards amongst many others. She is acknowledged as one of the most versatile actors with many path breaking performances. Priyanka is also actively involved in her role as the National Ambassador for UNICEF in India and the Green Ambassador of a nationwide environment awareness campaign in India.