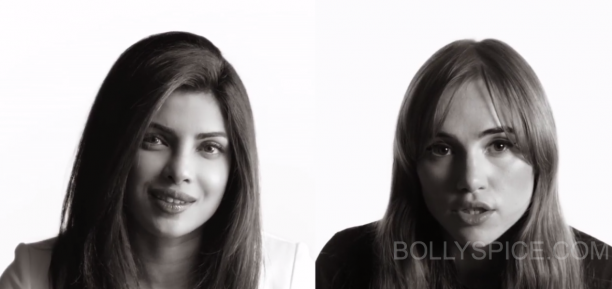 During a musical event at the United Nations General Assembly today, UNICEF unveiled the #IMAGINE project as part of celebrations for the 25th anniversary of the Convention on the Rights of the Child.
The #IMAGINE project brings together artist Yoko Ono, renowned music producer and DJ David Guetta, UNICEF Ambassadors – including Katy Perry, Angélique Kidjo, Daniela Mercury, Priyanka Chopra, Sunidhi Chauhan, Yuna Kim – and a host of other high profile supporters with the aim of creating a unique moment in music history that will highlight the tremendous challenges children face the world over.
Priyanka says, "An exciting aspect of my 8 year association with UNICEF has not only been the ability to make a tangible difference to the lives of so many young people, but also to use various innovations to create avenues to connect with a wider audience. The Imagine Project is one such innovation and I am honored to have been chosen to be a part of this amazing cause with such an illustrious panel of contributors. John Lennon has been a personal favorite of mine and his creation 'Imagine' so succinctly describes the scenario that we are all trying to achieve. In his words… You may say I'm a dreamer but I'm not the only one… I hope someday you will join us and the world will be as one!"
A new interactive digital experience, powered by TouchCast, will allow everyday people to record their own version of Imagine, John Lennon's iconic anthem of hope and peace, alongside their favourite stars, in what UNICEF hopes will be the largest ever global sing-along.
These individual recordings, and those of UNICEF's Ambassadors and other artists, will be made into a multi-lingual 'world' version of Imagine, produced by David Guetta. Everyone who records the song has the chance to have their vocals and videos used in the new UNICEF version of Imagine and in the accompanying interactive music video, created by TouchCast and TheBridge.co – both of which will be released in the lead up to New Year's Eve 2014.
"The Convention on the Rights of the Child asked us all to imagine a better world for children – and calls on all of us to make that vision a reality," said UNICEF Executive Director Anthony Lake. "The #IMAGINE project gives people across the globe a chance to join a global movement for children, lending their ideas, their visions and, not least, their voices to advance the rights of every child, everywhere."
#IMAGINE participants can share their own recording of Lennon's classic song with friends and family on social media and encourage others to perform Imagine too. They can also record personal messages describing what they imagine a better world for children would be like.
"A dream you dream alone may be a dream, but a dream two people dream together is a reality," said Yoko Ono.
Participants will also have the opportunity to donate to UNICEF. Funds raised through the #IMAGINE project will support the organisation's programmes providing education, nutrition, healthcare and immunisations, clean water and sanitation, protection and emergency relief for children in more than 150 countries and territories.
"I'm really excited to be working with UNICEF on this incredible new project. Our 'world' version of Imagine will be like no other – I am proud to be a part of this collaboration," said Guetta. "We have to get the word out that every voice counts and every child counts too."
The event at the United Nations General Assembly will include live performances by Grammy Award winner Angélique Kidjo, Brazilian singer-songwriter Daniela Mercury, Swedish-Iranian pop sensation Laleh, cellist Trey Lee from Hong Kong, Nigerian musician Don Jazzy and Kristian Kostov, the winner of the Russian The Voice.
Golden Globe and Emmy Award-winning actor Hugh Jackman, Yoko Ono and Björn Ulvaeus from ABBA will also make special appearances during the event.
The #IMAGINE digital experience will be available via the TouchCast app for iOS on the App Store on 20 November or at http://imagine.unicef.org