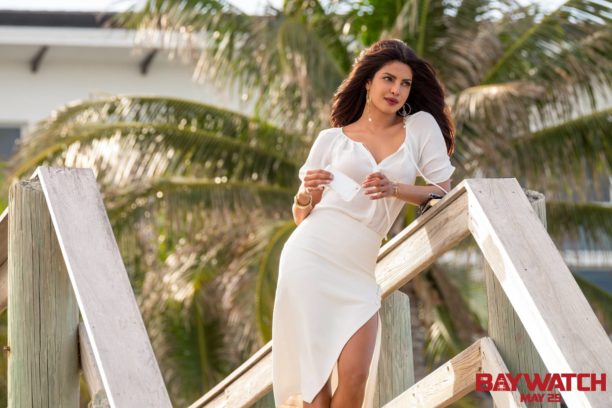 Priyanka Chopra steals the scenes as the sultry but sinister Victoria Leeds in the latest trailer for one the year's most anticipated action-comedy movie Baywatch, in cinemas on Monday 29th May 2017.
The brand new trailer sees Priyanka sizzle on screen in the film as the villainous Victoria Leeds, adversary to heroic lifeguards Mitch Buchanan (Dwayne Johnson) and Matt Brody (Zac Efron).
The trailer shows a battle of egos between Buchanan and Brody before they must battle together to save the bay from a criminal plot masterminded by the antagonistic Victoria Leeds.
Fans of Priyanka will be surprised and entertained by her new role alongside Johnson and Efron. Directed by Seth Gordon, Baywatch also stars a host of talent including Alexandra Daddario, Jon Bass, Kelly Rohrbach and Ilfenesh Hadera.
Check out her badness in a fabulous way!
Priyanka and Dwayne Johnson took to social media to engage in cheeky banter – here's Priyanka's reply to Dwayne Johnson (@TheRock) when he tweeted the trailer: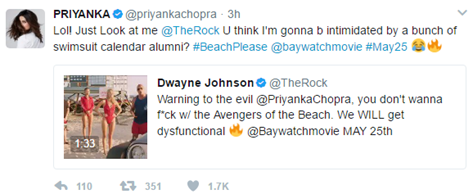 Synopsis:
BAYWATCH follows devoted lifeguard Mitch Buchanan (Dwayne Johnson) as he butts heads with a brash new recruit (Zac Efron). Together, they uncover a local criminal plot that threatens the future of the Bay.
Catch Priyanka Chopra in Baywatch in cinemas in the US starting Monday 25th, in the UK May 29th 2017 and in India June 2nd!