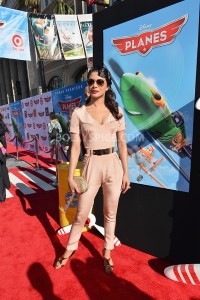 Considered one of the best actresses in Indian cinema, Priyanka Chopra has given Hindi film audiences many memorable and critically acclaimed performances. A fan favorite, the actress has created a diverse body of work that most recently included the outstanding and award winning performance as the autistic woman Jhimil in Anurag Basu's Barfi!.
Known for spreading her wings and exploring different creative projects, Ms. Chopra has another unique film that has just released. In a new avatar, Chopra lends her voice to Ishani in Disney's new animated feature Planes.
According to the official Disney Planes website, "Planes is an animated action-packed comedic adventure starring Dusty, a big-hearted, fast-flying crop duster who dreams of competing in the most exhilarating around-the-world air race in history. The problem? He is hopelessly afraid of heights. With the support of his mentor Skipper and a host of new friends, Dusty sets off to make his dreams come true. Along the way he meets the Pan-Asian champion from India – Ishani. Ishani is easy on the eyes, but ruthless in the skies. Exotic and mysterious, Ishani is full of surprises, but always has her eye on the prize."
Speaking with our guest writer Mr. Adam Tanswell, the actress chatted about working on her first animated flick, revealed what she originally wanted to be when she grew up (it may surprise you), her new single 'Exotic' and so much more!
How did you become involved with the high-flying new Disney animation film, Planes?
Disney came to me and said, 'We're making a movie about planes. It's set above the world of Cars. Would you like to do it?' I asked for the script, they sent it and I liked it – so that's how it happened.
Did you fly to Hollywood to record your voice for the animation?
I did the first recording session in Bombay with Planes director Klay Hall on the phone. Actually, it was Skype. That was my first rehearsal – but then I went into Disney and recorded everything. It was pretty quick, but it was super fun. By the time I came into Disney, I knew exactly what I wanted to do with the character. Klay said to me, 'Just be you. Just have your voice' Klay let me improvise in the sound booth and it was a lot of fun.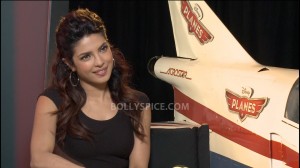 Klay Hall mentioned that you had a lot of input into the look of your character, Ishani. What did you suggest?
I wanted Ishani to have big, blinky eyes because I have big eyes in real life. Klay loved the idea, so now Ishani has big eyes that make her really stand out.
How does it feel to hear your voice coming out of an animated aircraft?
Initially, I was really freaked out. I couldn't believe it was my voice coming out of a cartoon and it threw me off for about five minutes – but then I got over it. After that, I was fine.
How would you describe your relationship with planes? Are you a good traveller? Do you fly often?
I have an incredibly deep, intense relationship with planes because I live on one. I travel all around the world and I feel like I spend most of my time on a plane because I'm always going back and forth between LA and Mumbai. Plus, I also fly when I'm travelling to film locations. I'm always on the move. Planes are very important in my life.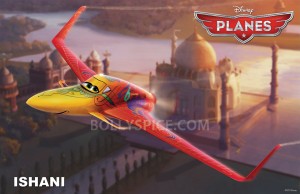 Have you ever wanted to fly a plane?
My mum flies, but I prefer to be flown.
Wait a minute… Your mum is an aircraft pilot?
Well, she's a gynecologist – but she can fly. She has flown and she has her pilot's license. I think that's very cool, but I prefer to be flown; just like I prefer to be driven.
You travel all over the world. What's your top travel tip?
I've got so many tips for you! I'm such an experienced flier. A lot of people get colds when they are flying because the air on airplanes is recycled; it's especially grueling on long flights. Well, there's a product called Airborne, which is amazing. It was originally made by a schoolteacher and it's full of vitamin C. It's incredible. Take some before you fly and you'll feel fine when you land.
What other travel tips can you share?
To handle jet lag, a really good thing to do is always sleep according to the country you're going to land into. If it's day there, stay awake. If it's nighttime, go to sleep. That's a really good trick and a great way to beat jet lag. You sleep when it's night and you're awake in the day!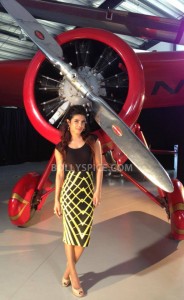 Did you always want to be an actress?
Originally, I wanted to be an engineer. I wanted to build planes. I was a physics student and I wanted to be an aeronautical engineer who made planes. When I was 17, I became Miss World and then movies came to me and I became an actress. It's strange because it's such a diametrically opposite profession of choice, but it happened. I guess I'm destiny's favourite child.
Did you act when you were a child? Were you in school plays?
I used to do a lot of drama in school, as well as musicals. I used to love being on stage, so I was also involved with debates and things like that. I guess I did a lot of theatre back then, so it's not completely new to me.
What advice would you give to youngsters who want to follow in your footsteps and act?
A lot of young people talk to me about this and I always tell them: "Life is really, really short to take too seriously." You should dare to dream and give your dream a shot – but be realistic. We live in an incredible world today where there are so many opportunities to do so many different things. Nothing has to be 'do or die'. If you don't make it as an actor, that doesn't necessarily mean that you won't make it as a director or anything else. When you're young, you have the opportunity to do so many things and the world is your oyster, so you should be able to do anything you want.
As a former Miss World, have your thoughts on beauty pageants changed over the years?
No. My greatest opportunity was when I became Miss World and I was very honoured by it. The Miss World pageant is all about women of substance and about being an ambassador for your country. I was way too young back then and I didn't know what I was talking about, but it was an incredible honour. I was the youngest Miss World and it was amazing. There are so many different kinds of beauty pageants and some of them can be extremely exploitive and objectifying of women – but the right ones aren't. People shouldn't generalize about them like that.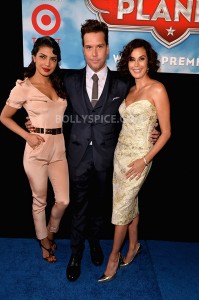 Do you have any plans to visit the UK soon?
I hope so. I keep travelling to the UK all the time because there are a lot of movies being filmed there. I hope to be travelling to the UK to promote my new single with Pitbull. It's called Exotic and it's released in the UK very soon.
How did you end up working with Pitbull?
I'm working on an international album in English and my first single was a track with will.i.am called In My City. It was used as the theme song for the NFL last year, which was very exciting. Red One is an executive producer on my album and it was his idea to call in Pitbull for the song. When we created the song, we knew we wanted a rapper on there – but we didn't know who. It sounded like a very Pitbull song, so we sent it to him and he loved it. He put his lyrics on it and sent it back to us – and we were very happy with the results.
The single is called Exotic. Where's the most exotic place in the world?
Any island with sandy beaches, where you have a margarita in your hand and you're wearing a bikini and you have nothing to do… That sounds exotic to me. I've been to some amazing exotic islands. I love French Polynesian islands like Reunion, as well as the beautiful islands of Fiji.
How famous are you? Can you walk down the street without getting mobbed?
It would be very pompous of me to talk about something like that. Let's just say that I'm blessed. I have a lot of people who love and support me – and I hope I make them proud. For me, I love what I do – and I feel like there are so few people in the world who get to do what they want to do. I'm kinda good at it, too – and that makes it even more fun. I'm like a kid in a toyshop right not. If there's anything creative to do, give it to me and I'll do it.
Do you take security with you everywhere you go?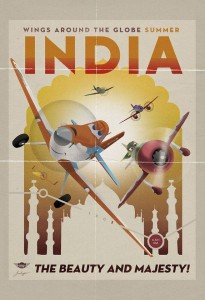 I don't like security much. However, if I'm going to an event, I will have some with me – but not in real life. I like living my life and I am not afraid of people coming up to me and talking to me. I don't understand famous people who don't like it. Yes, there are times when it's very intrusive and you want your own space and privacy. I get that. But it is a price you pay when you're on a public platform and I'm realistic about that.
What can you tell us about your upcoming boxing movie?
I am in so much pain right now because of this boxing movie! I have a torn tendon and a sprained ankle. It's the hardest movie I've done so far. Learning boxing as a sport was very new to me – and I had to do it in a month and a half. I'm playing an Olympic boxer who was a five-time champion, so I'd better be good at what I'm doing. It was really hard and I hurt myself along the way – but she told me this is a very common boxing injury. Now I feel like a real boxer.
Directed by Klay Hall, Planes also boasts the vocal talents of Dane Cook, Stacy Keach, Brad Garrett, Teri Hatcher, Julia Louis-Dreyfus, John Cleese, Cedric the Entertainer, Carlos Alazraqui, Roger Craig Smith, Anthony Edwards, Val Kilmer, Sinbad, Gabriel Iglesias, Brent Musburger, Colin Cowherd, Danny Mann, Oliver Kalkofe, John Ratzenberger and Priyanka! In theaters now in the US, it releases in the UK on the 16th and in India on August 23rd!