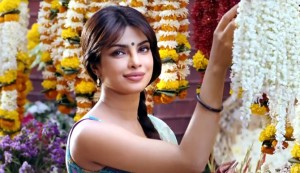 Gunday, starring Priyanka Chopra, Ranveer Singh and Arjun Kapoor, released to audiences on Valentine's day. On it's opening weekend, the film brought in an impressive 44 crore and now with counts over 63 crore, the film may well be joining the 100 crore club if this weekend brings in sufficient audiences.
Not only is the film doing fantastically at the box office, but Priyanka has gained rave reviews. Playing the role of 'Nandita', a Kolkata cabaret dancer, Priyanka is also the love interest of both lead males. Interestingly, Priyanka has always brought in the cash when being fought over by two males, be it Mujhse Shaadi Karogi, Dostana or now Gunday.  In Gunday, she has been credited for her effortless portrayal of sensuality and for looking stunning throughout the film. We didn't expect anything less really.
Looks like Priyanka's back in the game!