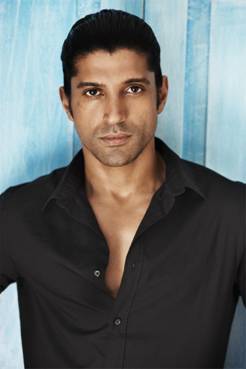 As an award-winning actor, producer, singer, writer and director, Farhan Akhtar is truly a superman in Bollywood. The acclaimed filmmaker has his producer hat on and is excited to bring global audiences his latest creation – the outrageous bro-mance comedy FUKREY which releases in theaters this Friday, June 14. His past films like Dil Chahta Hai , and then as actor and producer in Rock On!!, and Zindagi Na Milegi Dobara were blockbuster hits and Akhtar is now ready to unleash his newest on-screen team of charming friends, all set to win over audiences worldwide. Directed by Mrighdeep Singh Lamba, Fukrey features Pulkit Samrat, Varun Sharma, Manjot Singh, Ali Fazal, Richa Chadda, Vishakha Singh & Priya Anand in the lead roles
Farhan Akhtar sat down to give a behind-the-scenes look at his new production:
Can you tell us about the story of Fukrey and what movie fans will be in store for?
Fukrey is Excel's first venture into the area of pure comedy. It's a story of 4 boys struggling to fulfill their individual dreams, being short on merit and/or motivation. They take a short cut but end up getting caught in a seemingly dangerous web woven by a ruthless female gangster. How they find their way out of it, makes for the third act. With well-written, eccentric characters and hilarious situations, the fans can expect 2 hours of laughter and entertainment.
After producing recent films with Aamir Khan, Shah Rukh Khan and Hrithik Roshan, what made you want to go with a younger college-oriented project?
Each script that arrives at Excel is viewed on merit. The content should be appealing, casting comes after. Fukrey is a refreshing script for us as a film producing company as it is about a world not previously explored in any of our previous films. Fukrey is set in East Delhi, an area of our national capital that is not featured too often in film. And because it is about 4 boys whose dream it is to be in one of Delhi's coolest colleges, it has an immediate appeal for the younger audiences.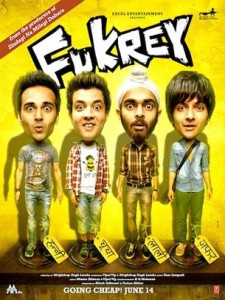 What would you like the youth of India and the world to take away from this film?
Firstly, I'd like them to be entertained by this film … laugh with and at the characters. If there is anything to be gotten from the sub-text of the film, it is probably the message that even those who don't graduate from school or college with distinction, have the potential within them to achieve their biggest dreams. So don't think a lower grade is the end of the road and most importantly, never lose hope.
Can you talk about the casting of the film and how this fabulous foursome was put together?
Magically. They compliment and work off each other so naturally that it seems they were all destined to be in these parts. I congratulate the entire cast and the director on creating a film with performances of the highest quality. A lot of the talent is new but that does not show at all in their work.
What projects are you working on next?
My next film as an actor will be 'Bhaag Milkha Bhaag'. That releases on the 12th of July.
Check out the trailer of Fukrey to see what is in store!
Also be sure to check out our cool interviews with Pulkit Samrat and Mrighdeep Singh Lamba and stay tuned because we have Richa Chaddha coming up too!