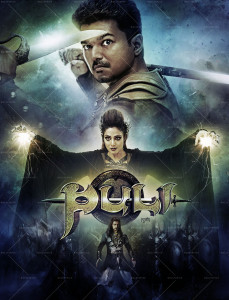 As a renowned nation for mythology, kingdoms in faraway lands and fables in general, the big screen is seldom kind to the filmmakers who venture down this magical path and stand as pillars in history to rewrite that sentiment. But taking away the money bags, the bottom line shows that we love these stories. They fascinate us to no end. If they are told right… Puli is not competition to rewrite history but another venture to exploit the interest Chimbu Deven tapped into at the start of his career in 2006. How one wishes he didn't.
 
You see, Puli is neither mythical nor does it have magical lure. There's magic. In Natarajan "Natty" Subramanian's camerawork that make you appreciate his skill of capturing a figment land of Chimbu Deven's imagination. There is magic in T. Muthuraj's production design. Makuta VFX listed on the crew was a selling point for me since they have been having praises flooding with each release. You appreciate their efforts and in the same breath wonder why. Why Chimbu Deven could not keep his end of the bargain up. The director who has made a career of refreshingly new stories and screenplays in the South has lost out as Chimbu Deven, the writer made a royal mess of the screenplay. The technical team and the cast could be giving the performance of their lifetime but it wouldn't make up for the gaping holes and tacky writing. Even if you take the subject audience to be the kiddies, there is a good portion of the pre-interval that is just inappropriate for them as well. Result? Bheja Fry. And that is something that continues throughout the film. Devi Sri Prasad may need to re-jig his music mojo as the album/BGM is passable and that's a lot less than what you can expect from the usually dependable music director. Teri Meri lingers long enough to score a spot on a repeat playlist.
 
In relation to the actors, Joseph Vijay or "Ilaya Thalabathy" Vijay as he is fondly known should be applauded for the choice of role but all you feel is pity. He tries to make each scene count and fails miserably. The Queen even before Puli, the Sri the Devi the Ji (Thanks to Salman Khan for coining the phrase) has always been exotic but she brings on a new kind of hypnosis and radiates elegance. Kiccha Sudeep transforms every time you see him on screen. His smouldering sinister side just doesn't get enough meat to nibble, let alone chew. The lovely ladies Shruti Haasan and Hansika Motwani have one portion of the film and 2 songs each with Vijay. They were definitely not expected to act with gusto but beautiful they both are. Nandita Swetha has 2 scenes and 1 line so I don't know if that counts as a cameo. Thambi Ramaiah, Sathyan, Vidyullekha Raman, Prabhu Ganesan, "Aadukalam" Naren, Vadivukkarasi and lots more are in the cast. Yet there is little for them to do.
 
If you are looking for the story, you already know it. It's LOTR, Prince of Egypt, The Hobbit, Gulliver's Travels and etc. mixed in with a few badly made martial arts films. The repetitive isn't going to bother you as much as being bored to death. And then being told there is another 2 hours to go.
 
Chimbu Deven's Puli has less roar than a day old cub with pneumonia and no cuteness to substitute.