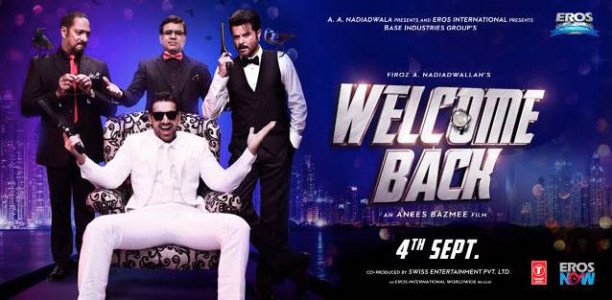 This….how do I describe it? Welcome Back is not a film. It's a joke. An extended gag about two aging dons who are looking for a bride, and who fall in love with the same cheesy girl, the sudden appearance of their long-lost kid-sister who wants to marry this tall and gym-beefed tapori who is the long-lost son of a character named Ghungroo, played by BJP MP Paresh Rawal. Rawal will have a lot of explaining to do to his High Command about what he is doing adding to a campaign quite opposite of a Swach Bharat.
In the meanwhile this….this….entity masquerading as a film has a lot of explaining to do about how and why it does what it does to some of the biggest talent in the industry. The last time Anil Kapoor and Nana Patekar came together was in Vinod Chopra's Parinda. Back then Anil was young and eager to please. Nana was a crazed lunatic who would go crazy every time he saw fire.
I wonder what Nana's character in Parinda would do if he saw Welcome Back. It can trigger off psychotic thoughts in the calmest of souls. An astute writer, Anees Bazmi provokes and challenges the viewers to dare and impose any intellectual reading of his monstrously confusing material.
No one would dare to attribute intelligent motives on a plot that is high on a blizzard of bilge.
The plot is a mind-boggling mass of implausible characters, all talking like they have just watched the full series of Office Office, who come in and go at their will because this is an all-expenses paid holiday in Dubai. And more importantly, this is Anees Bazmi's ilaaka (area). Yahan, boss, sab kuch chalta hai (Everything works here). And logic ki toh aisi ki taisi (And there is no logic).

Admittedly, there is a goofy freedom to the outrageous goings-on specially in the way Anil Kapoor and Nana Patekar bond over the burlesque. The duo seems determined to slum it out in the sleazy satire. Forget Parinda. Think Anil and Jackie in Andar Bahar.
There is a specially noticeable antakshari sequence in a graveyard where Kapoor and Patekar scare the hell out of one another while John Abraham keeps popping in and out of a sack playing dead. Dead or alive, John's comic timing is not bad. He tries really hard and succeeds once in a while in being endearing.
But for a comeback film Welcome Back lets John down badly. I specially liked him in a movie-theatre scene where he gets slapped by Shruti. The expression there was that of an actor who knows he can be beaten at his game when surrounded by stalwarts.
Not that the stalwarts have much to do. Almost-forgotten actors like Ranjeet, Mustaq Khan, Neeraj Vora and yes, Shiney Ahuja show up in a garish kaleidoscope of cameos that add nothing to the actors' resume or to the over-populated plot of this antiquated ode to fetid antics.
I did hear audience giggling once in a while. But the laughter in the theatre was few and far between. Specially unfunny was Dimple Kapadia in a role of a conniving con-woman posing with her daughter as royalty to hook every unmarried male in sight. The lady tries to have fun playing the aging slut. Dressed in garish pink and screaming purples Dimple is uncomfortable in a role that Bindu would have played 20 years ago.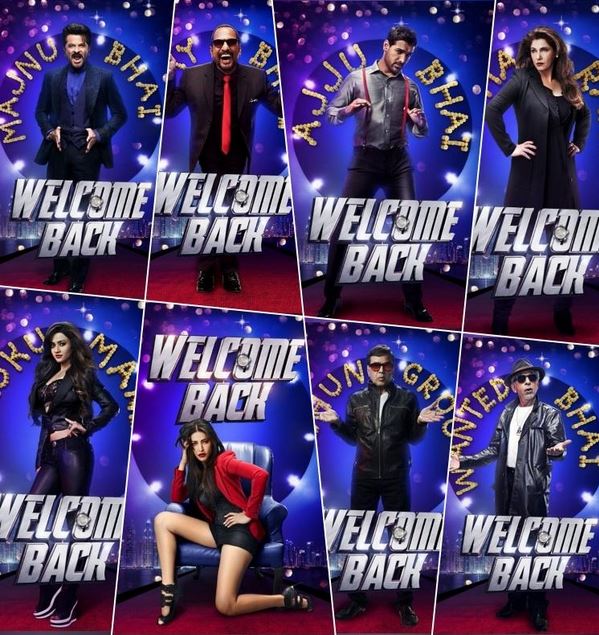 For all its sins of unstoppable buffoonery Welcome Back manages to be inoffensive and surprisingly free of vulgar thoughts. Even when a newcomer Ankita Srivastava emerges from the water in bikini we aren't really expected to get delirious with sexy thoughts. The narrative has the innocent joy of a child telling adult jokes that only the child understands, to his Dad's friends.
If the film doesn't trip up on its own silliness it's because the actors get the point. A little before the release Anil Kapoor had gently said Welcome Back is not a great film. He meant to tell us that everybody associated with this work of unalloyed asininity is out to have fun.
The film actually comes into its own midway when Naseeruddin Shah shows up as a blind gangster with a dysfunctional son(Shiney Ahuja). Every time Naseer does something evil he says it's a joke.
Quite the sentiment that moves this topheavy comedy ahead.
If you like ridiculous humour in cinema laced with lots of flamboyant locations songs and action then Welcome Back is your poison. But if stupidity dressed up in laughter offends you, this one may drive you to commit a crime worse than making a film whose comic plot no one follows.
Not even the director himself. Not completely. Not really.