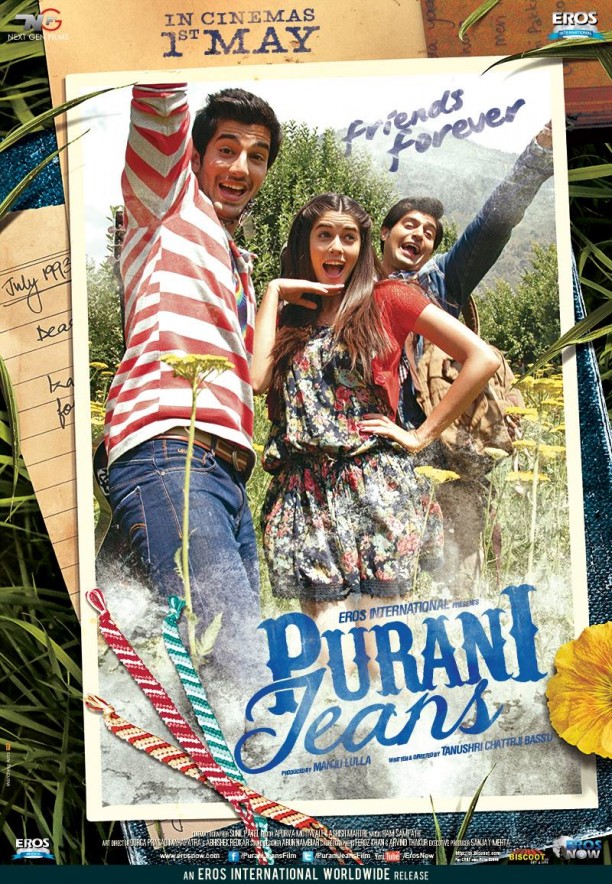 Purani Jeans is an upcoming drama which has been directed by Tanushri Chattrji Bassu. Starring Tanuj Virwani, Aditya Seal and Izabelle Leite in the leading roles, the film is based on a guy who rekindles with his old friends after a long period of time. The music to the film has been composed by Ram Sampath, who has previously given us albums like Talaash (2012), Fukrey (2013) and most recently, Bhoothnath Returns. The lyrics have been penned by Ashish Pandit, Prashant Ingole, Munna Dhiman and Kunwar Juneja. So is the music to Purani Jeans worth listening to? Read on to find out our thoughts on it!
First up we have 'Yaari Yaari' sung by Ram Sampath. This a brilliantly composed track which is full of up-tempo flavours that makes it very catchy. A range of instruments such as the trumpet, drums and guitar have been well incorporated into the song and the vocals by Ram make it all the more special. This is undoubtedly one of the most enjoyable songs in the album so definitely do check it out!
Next is 'Dil Aaj Kal' sung by K.K. I really loved hearing this melodious tune and the wonderfully written lyrics make it all the more special. In addition, K.K delivers a soothing performance and his voice complements the lyrics to this song. I really appreciated this one and it certainly deserves your attention. I won't be surprised if this turns into a big hit with the masses. There is also an Unplugged Version which has been performed by Sona Mohapatra. Sadly, this one does not work as well as the original version as it is too diluted.
Following this we have 'Out of Control Mundey,' which has been sung by Mika Singh, Suzanne D'mello and Deane Sequeira. I found this song to be a little too wacky for my liking. The composition (though a rock and roll themed song), was a little messy and does not have a good flow to it. Sadly, this song has little appeal to it and I don't think it will have a large impact.
Next up we have 'Yeh Beetey Din,' sung by Ram Sampath. If I had to choose, I would say that the Rock Version has a greater likeable factor to it, in contrast to the Acoustic Version. It works better due to the up-tempo composition, whereas the Acoustic Version is far too bland for my liking. In addition, for those of you who have close friends that you love in the same way as you love your brother or sister, the lyrics are definitely relatable. I think it's a great friendship song which has no doubt been produced due to the theme of the film. Do give the Rock Version a listen as it's another highpoint of the album.
Finally we have 'Jind Meriye,' which has been performed by Navraj Hans. This one was a bit dull and I didn't enjoy it as much as I thought I would. Though Navraj delivers a great vocal performance, the composition was not as catchy and therefore makes it an average listen.
To sum up, Purani Jeans works in many places, though there are some songs in the album which could have been great if more work had been put into them. Having said this, songs such as 'Yaari Yaari,' 'Dil Aaj Kal,' and 'Yeh Beetey Din' (Rock Version) are splendid songs which deserves your ear's attention. Overall, Ram Sampath has done a respectable job with this album and I think it has the potential to grow in popularity. Hopefully, the film will be a great watch too when it release on 1 May 2014!