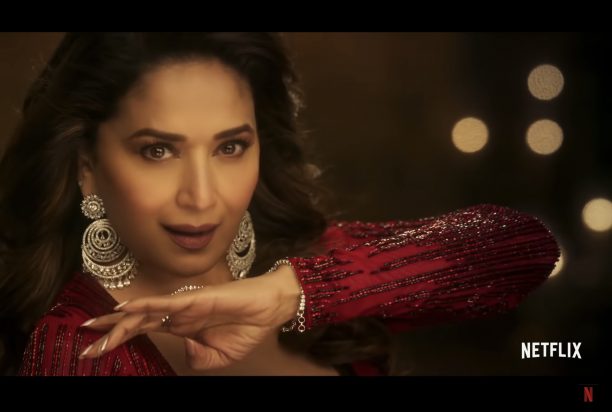 Besides being a brilliant actress, Madhuri Dixit is known as one of the best dancers ever to grace the Bollywood silver screen. When you think of dance sequences in Bollywood, her name always comes to mind, from 'Ek Do Teen' to 'Dola Re Dola', to the many dances of Dil Toh Pagal Hai, Aaja Nachle, and so many more!
For her newest project, The Fame Game, Madhuri plays Bollywood star Anamika Anand, and one of the scenes features an epic dance number to the song 'Dupatta Mera' We have to say this is Pure Madhuri Magic. With music by Salim Merchant, vocals by Sunidhi Chauhan, and choreography by Vaibhavi Merchant, it is beautiful, outstanding, and bravo worthy in dance, vocals, and song.
About the song, director Sri Rao wrote, "She's the most iconic dancer in Bollywood history. And I had the chance to direct her in our very own musical number. To say "dreams come true" is a cliché, but for a boy from a small American town in the middle of nowhere — it's hard to believe this is actually happening. There were only three people I could imagine coming together to create a song worthy of the Queen, and I'm honored they all said yes. Thank you, brilliant composer, Salim Merchant, master choreographer Vaibhavi Merchant, and legendary singer Sunidhi Chauhan. Along with ace cinematographer Manoj Kumar Khatoi and visionary production designer Amrita Nikai Mahal, you've created a song worthy of the Madhuri Dixit canon."
Check out the absolutely Stunning video
The Fame Game is now streaming on Netflix!