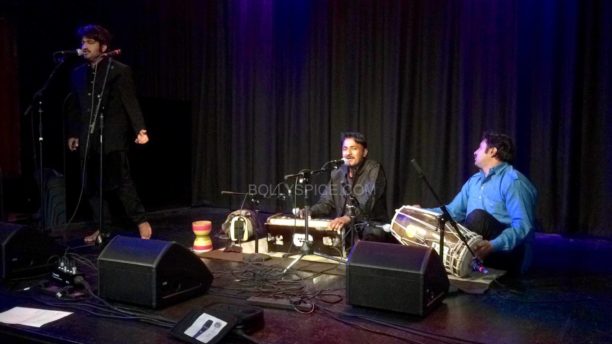 Rajasthani folk group Barmer Boys came to the Folk House, Bristol in early September. Their electrifying vocals stunned the audience who were transported to the desert and villages of Rajasthan. Everything about the performance was top notch. The showmanship, the charisma, the vocals, the tapestry of how they weaved the instrumental sounds together!
It was magical and clear to see that these boys are born to do what they do!
We had the opportunity to interview the Barmer Boys backstage before their Bristol gig. We also got the chance to speak to their agent Ankur Malhotra. This has to be one of the most fun and delightful interviews I have ever done. The Barmer Boys have a fantastic sense of humour, a genuine desire to perform with their hearts… and great taste in food!
So, who are the Barmer Boys?
The group consists of Mangey Khan on the lead vocals and harmonium; Rais Khan on the morchang, bhapang, khartaal, beatboxing; Magada Khan on the dholak.
The group have achieved much through their talent already. They created magic on Coke Studio where they gave a stirring performance Pir Jalani alongside Clinto Cerejo. They have performed alongside prominent artists such as Vieux Farka Toure, Bombino, BaBa ZuLa, Madou Sidiki Diabate, Rupa and the April Fishes, and UK's Jason Singh/Dharohar Project.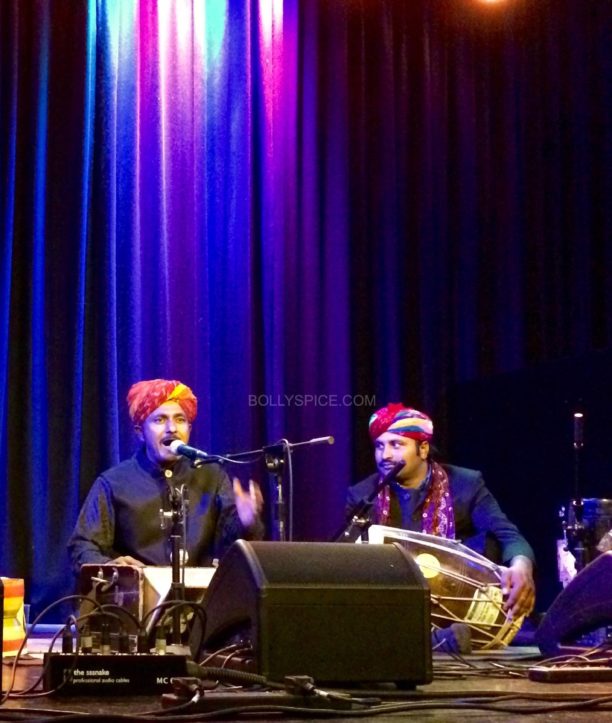 Our interview was bursting with laughter and jokes, an exploration of the food, the sabjis of Rajasthan, what it's like to sing Rajasthani folk songs and more!
Ankur Malhotra: This is our first ever UK tour. We are super thrilled to be here. We are looking forward to performing at Bristol Folk House today and London Rich mix with BBC Asian Network. It's been a long time coming. The groups been around for 5 years and we have toured the US, Canada, mainland Europe. It's so special to come to the UK with it's huge Indian/Pakistani diaspora to win over new fans with our music.
Aashi: Thank you so much for being here in Bristol- in this wet rain! We need some Rajasthani culture!
Ankur: Yes it would definitely warm up things a bit!
Mangey Khan: I do the vocals and play the harmonium… jo halka halka saroor hai!
Aashi: What do you love about being Rajasthani? For example, I love the food – especially ghata ki sabji!…
Mangey Khan: …Dhal, choormo, bati. Sangria ka saag. Gwarfali ka saag! That's what I love!
Rais Khan: Rajasthan's pride. Rajasthan's music. I'm proud of the deep feelings and emotion that goes into Rajasthani songs. I feel proud that we are presenting these emotions of Rajasthan.
Aashi: By the way I make great ghata with puri! Okay, more seriously, how does it feel when you sing?
Rais Khan: Whatever song we sing we put our hearts into it. We play the instruments with our hearts and feel the emotions being described.
Ankur: A part of Rajasthan's glory is that the centuries of musical culture which it's embedded in, has no one single language, nor one single place, nor one single God. There's sufism, Hindu bhajans and old songs. And then there's the old embedded with the new! For instance, Rias does beatboxing amongst the traditional Rajasthani folk songs.
Rais Khan: It's about presenting the feelings and moods of century old folk songs in a way that people can relate to. That's what we do through Barmer Boys. I would say that music is one big family.
Aashi: Okay, so now to Bollywood! Your favourite actor?-
Ankur: I think you should ask them on their favourite actress!
Rais Khan: Shah Rukh Khan!
Aashi: And your actress?
Rais Khan: Aishwariya Rai
Aashi: You didn't have to think too long!
And your hero Manga Khan?
Mangey Khan: Ankur ji! Our manager! Okay, okay. In Bollywood…Amitabh Bachchan! And Hema Malini.
Magda Khan: I agree with these two…
Aashi: No, no – who do you like?
Magda Khan: Amitabh ji! Hema Malini. Rekha. Katrina…
Ankur: …Sushmita Sen!
Aashi: That is a long list!
Okay and your favourite Bollywood film?
Rais Khan: Umrao Jaan- but the old one. Especially the song Dil Cheez Kya Hai Meri Jaan Lijiye. The beautiful old songs.
Mangey Khan: For me it's Gadar. Sunny Deol!
Check out these cool videos and shots from the concert!