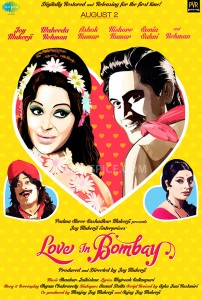 PVR Director's Rare is all set to release a never seen before piece of work by legendary actor & director Joy Mukerji, Love in Bombay. With this presentation, PVR Director's Rare pays its tribute to one of the most respected figures of Indian cinema. The unreleased movie is digitally restored and now ready for theaterical screening for the first time on August 2nd, 2013.
The "Love in" series started with Joy Mukerji debuting with the blockbuster hit Love in Simla in 1958, followed by the golden jubilee hit Love in Tokyo in 1966. 'Love in Bombay' completes the trilogy when it releases this august, 40 years after its production in 1973.
In the movie, directed and acted by Joy Mukerji, co-stars late Ashok Kumar, Waheeda Rehman, Rehman and the versatile virtuoso Kishore Kumar. The music is composed by Shankar-Jaikishan and lyrics are penned by Majrooh Sultanpuri.
Love in Bombay is an adventurous romantic tale about an innocent, young man, Badal (Joy Mukerji), who meets an arrogant city girl, Preeti (Waheeda Rehman), on a ship. When the ship gets caught up in the eye of a storm, Badal saves Preeti's life and they along with a few others are washed on to an island. What ensues after this is an adventure of love, loss, freedom that finally results in Badal coming to the big city of Bombay and winning over his city sweetheart.
The movie's negative was accidentally found by Joy's children- Sujoy Mukerji , Monjoy Mukerji and Simran Halwasiya, which resulted in the three siblings' quest to showcase their father's last masterpiece.
Speaking on the release, Mr. Sanjeev Kumar Bijli, JMD, PVR Ltd. said, "We are extremely pleased to announce the release of Late Mr. Joy Mukerji's 'Love in Bombay' through PVR Director's Rare. By providing a platform which renders it possible for the film to see the light of day, we pay our respects to the celebrated visionary that Joy Mukerji was. From thoughtful films to lighthearted romances like 'Love in Bombay', PVR Director's Rare continues to bring world class cinema that is truly appreciated by movie lovers."
Mrs. Neelam Mukerji, wife of late actor-director says, "We are really touched by PVR Director Rare's gesture to release the film. They are giving today's young generation a chance to enjoy my husband's classic work. I'm sure they will appreciate his cinema and the same will create nostalgia for those who have seen his work before. I would also like to appreciate the unrelenting effort that was put by Avitel Post Studio in restoring the film's negative. "
Joy Mukherji is also known for his memorable roles in musical hits like Ek Musafir Ek Haseena, Ziddi, Shagird and Phir Wohi Dil Laya Hoon. Love in Bombay is all set to release in major-metros on August 2, 2013