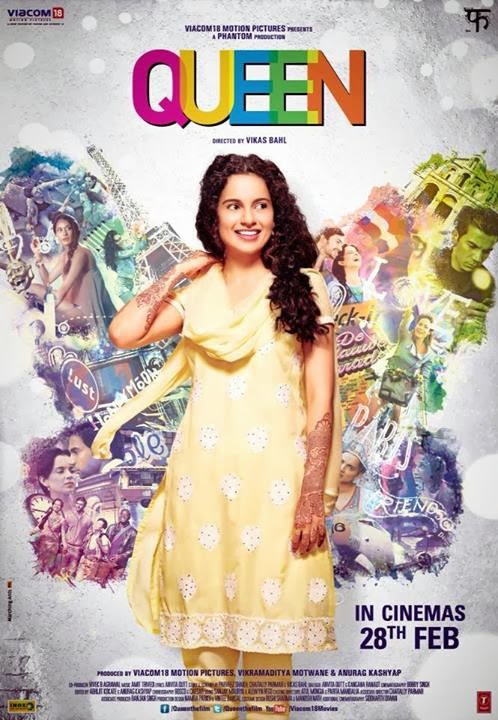 Kangana Ranaut is making a big splash with her film Queen where she plays the vivacious character Rani, who ventures out on her honeymoon in Paris by herself. Already the promos have been creating some buzz for Vikas Bahl's debut film for it's fun storyline, Kangana's charm, and of course that characteristic Amit Trivedi sound. This is the first soundtrack of the year for Trivedi, who creates a familiar breed of innovative and breezy songs that completely fit with that carpe-diem attitude of the film.
Initially, London Thumakda, sounded like a familiar riff of 'Farukha Baadi' from Trivedi's other album Luv Shuv Tey Chicken Khurana, however he manages to make this one a gem to listen to. Labh Janjua is in fine form with sisters Sonu and Neha Kakkar lending him ample support with their backing verses. Janjua and Trivedi are a fabulous pair, since Trivedi's Punjabi sounds aren't the typical beats that you'd usually hear, as Janjua gives the song that extra edge and authenticity. The familiar banjos and dhol combo are here throughout, along with a great 'Latthe Di Chaddar' verse that makes it worth savouring. Keep this one on repeat.
Another gem of the album is Badra Bahaar, which makes you marvel at how Trivedi intersperses the sitars with the funky guitar melody. The arrangements are simply fantastic, with the sitar solo in the bridge, as well as the piano and brass sounds chiming in throughout the track. Trivedi does have a pretty flat voice, but he always makes up for it with all that emotion and verve in keeping in-sync with his soundscape.
The club song, O Gujariya opens with loud sirens and the usual techno beats that lace the track. This is a fast-paced number that really catches the Euro electro-pop sound with the synths, detached vocals, and dubstep beats. As always, Shefali Alvares is completely in her party zone with her vocals though she does sound a bit manic with her screeching. nevertheless it suits the mood, and Nikhil D'Souza provides that backing support.
Another pairing for the album is Arijit Singh, and Trivedi for Taake Jaake, a lovely and sweet little ditty. This song is adorable with its penchants for the accordion, Glee-style chorus in the back, and the twangy rock sound. The melody is simple and breezy, and you may just catch yourself nodding from side-to-side with this nice melody. The lyrics by Anvita Dutt are mighty catchy and simple enough in conveying that sense of freedom.
Jugni is a spirited and energetic soft-rock song that gets you pumped with its melody and shouty chorus. The arrangements are nicely done, with the banjos and guitar intermingled throughout along with a sprinkling of piano. Trivedi takes the vocals for this one and unleashes his versatility, but he also lets the arrangements take precedence leaving us with more to enjoy.
The standout track on the album is definitely, Harjaiyaan, which immediately hooks you in with dotara coinciding with strings and harp. It's a brilliant and well-paced track, which allows singer Nandini Srikar the space to create such a haunting and evocative sound. It's a testament to Trivedi's versatility and innovation that he manages to create such an illustrious soundspace with trumpets, drums, and soft percussion chiming in for such a sterling melody. This is definitely a track that will stay with you long after it's done as it's subtlety will sit with you a while.
Kinare starts off on a boring note, with the twangy guitar and the moogs, which feels a tad repetitive. However, Mohan Kanan manages to salvage the track with his soulful and deep vocals, and when the sitar solo kicks in then the song livens up. It's soon becomes a jam session between the trumpet and piano, with the consistent rock sound at the back which makes it come together in a better way.
The album ends on a superb note with Ranjha, which was composed by Rupesh Kumar Ram. It's a lovely and heartfelt song that lets Ram's lilting vocals take centre stage, and the eloquent lyrics by Raghu Ram complement the track. Just under 3 minutes, this track is another standout track of the album, keep this one on repeat!
Queen is suitably eclectic and peppy much like Amit Trivedi's oeuvre. While he doesn't strike new ground in this one, Trivedi creates an enjoyable album that complements the tone of the film and it's vivacious heroine.