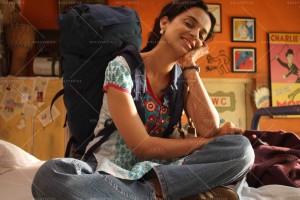 Everything was set for the release of Queen this Friday, and lead actress Kangana Ranaut recently attended a Q&A session to answer some questions about the film and more!
The expectation for the film has been growing since the trailer was released few weeks ago. The reception has been very positive, and stars such as Amitabh Bachchan have voiced their opinion. When asked about it, the actress was astonished. "I am getting amazing reactions. Mr. Amitabh Bachchan has apparently tweeted about the trailer. I also met him at a party recently. Mr. Bachchan, Mr. Aamir Khan and Mr. Salman Khan all told me that they are eagerly waiting to watch the film. What else can one ask for?" She feels flattered by all these reactions, as she also added, "It's very important to me because I have felt accepted for the first time. I have never received such support for any of my films before".
The actress of Fashion also talked about her experience working with director Vikas Bahl. She kindly praised his work and dedication, as well as the freedom that he allows to actors. "What I love about these contemporary filmmakers is their spontaneity. They allow artists to contribute to the film in many ways. Vikas allowed me to write dialogues for the film, not that I was planning to or worked towards it. It just happened very organically. He liked what I was coming up with and he let me write my own dialogues". She even mentioned an episode when she could not perform satisfactorily and how he was very understanding and handled the situation. "I was working multiple shifts and was filming for Krrish 3 and Queen simultaneously. One day when I came from the sets of Krrish 3 and Vikas asked what was wrong with me as I wasn't behaving and walking like my character Rani. I can't just switch on and switch off. It takes me months to get into a character and I can't just work like a robot. He understood that and respected me as an artist. He didn't shoot with me that day".
The focus of the film is on Kangana's character, Rani. "She has major issues. She believes that by changing herself, she can please people around her. Her goal is to keep everyone happy. She is really naïve", the actress described her character. Although she does not relate to Rani, there are some parallelisms between them. "I also come from a middle class background and I understand how and why she feels that way. I have also come from a small city to a big one".
Most of the film is set in Europe, especially Paris and Amsterdam. Although many Bollywood films include scenes filmed abroad, the case of Queen was a bit different, as the actress pointed out. "We frequently shoot abroad but mainly for songs for which we dress up quite a lot. You look like an actress and people come and take pictures with you (laughs). However, for this film I had a very girl-next-door look and honestly, looked very ordinary. People would look at me and wonder why I am so special and why would someone make a movie with me (laughs)". The actress had to endure the looks of the surprised bystanders. "People would ask the crew "Is she the leading actress?" You know, people have this idea of a Bollywood actress wearing a chiffon saree and her hair flying (laughs) but that wasn't the case with me".
Kangana was recently in London to attend the Burberry show at the London Fashion Week. "It was my first experience at an international fashion week and show. Burberry and I go long back as they have been dressing me for red carpet appearances and events.  I was thrilled to see their collection and I loved how they received me. It was just a lovely experience".
Queen tells the story of Rani, a small-town girl who after being dumped at the altar by her fiancé decides to go on her honeymoon to Paris alone. In a foreign country she will make new friends and live a unique experience that will change her life forever. Presented by Viacom 18 Motion Pictures, Queen is a Phantom Production. The film is directed by Vikas Bahl, and produced by Viacom18 Motion Pictures, Vikramaditya Motwane and Anurag Kashyap.