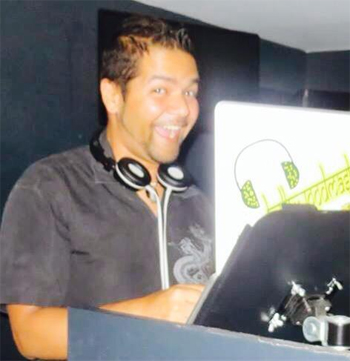 Resident DJ of London's legendary Bollywood night Bombay Funkadelic, DJ Shai Guy knows exactly how to get the party started.
We got ourselves down to Brick Lane one balmy Saturday evening and checked out June's event.
Verdict: Please don't stop the music.
Halkat Jawani mixed with Mera Joota Hai Japani .
I got the Power.
Old school Bollywood beats such as Aama Dekh and Jab Bhi Koi Ladki Dehku…
DJ Shai Guy had the dance floor filled with innovative Bollywood dance moves within a short space of time.
This isn't the first.
Recently, at the SouthBank Alchemy Festival 2014, DJ Shai Guy phenomenally had the entire Thames terrace swaying to Bollywood.
We at BollySpice had the opportunity to interview DJ Shai Guy and get to know how mithaai's would sound if they were Bollywood songs, what beats he would take to a deserted island, the best and worst aspects of being a DJ, what makes playing Bollywood extraordinary – and more!
But first, let's begin with a small exercise.
Aashi: Okay Shai. Let's test your Bollywood song reflexes. What is the first song that comes into your mind beginning with the letter:
A : Aap Jaise Koi
G: Ghungat Ki Aad Se
L: Lat Lag Gayee
Z: Zara Sa Jhoom Loon Mein
A: Next round.
If mithaai's were Bollywood songs, what would a Chocolate Barfi be?
Infectious, creative, east-meets-west… Koi Kahe Kehta Rahe
A ladoo?
Fun, traditional, energetic – Dholi Taaro Dhol Baaje
A rasmalai?
Irresistible, smooth, sensual… Katrina! Sorry, song… Sheila Ki Jawani
Hmm. Now, onto the serious questions:
What inspired you to become a DJ (and not a doctor, or a lawyer, or a dentist beta?)
Believe it or not, I actually fell into it by accident. Despite a habit of making compilation cassettes whilst growing up (in particular, an anthology called 'Confused?' which would have a mix of all kinds of genres of music), I never thought I'd be an actual DJ!
I bought a basic Numark Mix-2 all-in-one DJ kit at university, a few months later a friend of a friend asked if I'd be interested for auditioning for a new student night, I played and the rest was history.
I'm not going to lie – I love entertaining people and making people smile. I'm a commercial sell-out when it comes to music. I don't feel the music I play will change people's lives but I hope that during the events I play, people don't stop dancing until the music stops and they have the time of their lives.
If you were stuck on a deserted island and you could take 5 Bollywood songs to mix, what would they be and why?
If it was for a set to entertain my fellow stranded people, I'd have to make sure they were similar BPMs and could mix harmonically, so I could impress them.
But for myself, just so that there's a good variety, it would have to be the following:
DHAN TE NAAN – Samples 007. Should be rubbish. But oh so very good.
SUNNY SUNNY – Simple summer house anthem given the Honey Singh makeover. I'd take my mashup for best effect 
HO GAYA HAI TUJHKO TO PYAR – Watching the film as a teenager, it was during this song that I fell in love with Bollywood.
MUQABALA MUQABALA – The song that introduced me to the genius of AR Rahman and kickstarted my passion for Bollywood music to dance to.
SUBHA HONE NA DE – You're on a desert island. The heat of the sun is blistering hot. Obviously you're going to want to sing along to this one.
The best and worst thing about being a DJ?
Best thing – playing God and seeing everyone react when you punch in a first-play-mashup or an unexpected blast-from-the-past. Generally the adulation (when it comes) – can never tire from that!
Worst thing – DJing is mainly on weekends, so there's a good number of friends and family events I can't make. Since my DJing has really taken off, I hardly get to visit my parents as much as I used to, and though she loves the music, I think my girlfriend is slowly tiring of attending each and every time I DJ.
What's the difference between a BANGING BEAT and a HEADACHE BEAT?
A Banging Beat is one which instantly has you moving your head in time to the music, if not your whole body.
A Headache Beat is music which is just noise – hardcore stuff that shouldn't even constitute as music. Saying that, beauty lies in the ears of the beholder.
Have you come across a Bollywood tune that is just impossible to mix? How did you get around it? (And you cannot say not playing it)
There's no track that's impossible to mix, given that you start the track at the right point in the song, but then some people prefer to have the intro played (Kajra Re).
However, the BPM speeds are sometimes all over the place for older Bollywood songs which make them 'almost' impossible to mix – Jawaan-e-Jaaneman is a perfect example.

http://www.youtube.com/watch?v=f5bEkgKTZmw
What makes throwing a Bollywood party different to other genres?
The people. Bollywood-lovers have such a fun, inclusive, enthusiastic energy about them. They often know the moves from the films, they know the words to the music. They completely immerse themselves into the music and that feeling is so infectious that eventually the whole room gets infected.
Don't get me wrong, I love dropping some Bhangra hits in the mix too, but Bollywood just feels so much more universal. Probably wouldn't be the case if I was playing a Bhangra night though.
Your BEST DJing experience and your WORST DJing experience:
Best DJing experience – interesting time to ask, as it would be a toss up between my first and my last gig. When I played my first gig, I had no idea how packed the club would get, how much my friends and their friends, and their friends-of-friends would come to support me.
The place was rammed and only after my first gig, I was getting offered to play a residency at a top-end bar in Manchester (which I stupidly turned down to focus on my studies!)
Then my last gig, a last-minute performance at the Alchemy Festival. I expected it to be a background music gig, with a few people drinking and nodding their head, but it unexpectedly turned into a full on Bollywood party on the Southbank!
The common link between the first and last gig – unexpected surprises.
Worst DJing experience – a couple of years ago, I was asked to play a party called "World Groove" alongside lots of other DJs in order to represent the South-Asian quotient of music. I completely respect the organizers for inviting me to play to offer another flavour of world music, but unfortunately the vast majority of attendees were Afro-Caribbean, and swiftly vacated the room after I'd only been playing for an hour.
It didn't help that the guy I followed played an amazing Dancehall set and the organisers insisted I stick to just playing Bollywood.
Your top three Bollywood films:
Lagaan
Dilwale Dulhania Le Jayenge
Shakti (Amitabh vs Dilip. Not silly Karisma Kapoor one)
Your top three Bollywood stars:
Aamir Khan
Naseeruddin Shah
Vidya Balan
Your advice to someone who just cannot dance and refuses to sit down:
Don't you dare stop dancing, gods damn it. You rock!
If we are ever stuck on a desert island, we will call you up for a party until we drop from exhaustion (if that is at all possible with us and Bollywood).
Thank you Mr DJ!
DJ SHAI GUY Facebook:
https://www.facebook.com/theshaipod?fref=ts