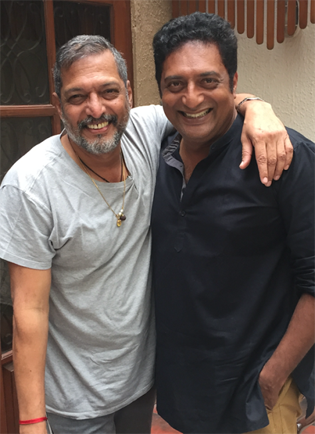 When we hear the word 'Tadka', the immediate image conjured in our minds is that of sizzling hot tasty food, prepared with love. Well, one such 'delicious' offering of cinema is coming out this year for audience, which is cooked (no pun intended!) by Zee Studios, Movie Makers Inc. and Prakash Raj. This will be the first time that Prakash Raj will be directing a Hindi film after acting in more than 300 films.
The National Award winner, thespian and director Prakash Raj is all set to remake his superhit film Salt & Pepper with one-of-its-kind and unique ensemble cast of Nana Patekar, Shriya Saran, Ali Fazal and Taapsee Pannu! Tadka has been made into three South Indian languages as Un Samayal Ariyal, Oggarane and Ulavacharu Biryani, and has managed to woo the audience each time!
Zee Studios will be collaborating with Nana Patekar again after Natsamrat which performed extremely well & set new records.
Bollywood's own acting stalwart Nana Patekar will return to the big screen with his trademark quirky, endearing and unpredictable avatar, which has been always loved and appreciated by the audiences each time.
Tadka, we hear, is an interesting mix of emotions and quirk that shall appeal to a large part of audience ranging from youngsters to retired ones. The story will see Nana Patekar opposite Shriya Saran and Ali Fazal and Taapsee Pannu playing a young couple. It is a unique tale of love that brews between a middle aged couple over their love for cooking and food. It is a quirky, energetic and colorful comedy based on the background of food. The movie will be shot in Goa and the makers of the film have zeroed down on this destination to capture the unique colors and flavours from the land of fun, frolic, feni & fish.
Talking about the same, Mr. Nittin Keni & Akash Chawla from Zee Studios said, "We are looking forward to this association with Prakash Raj & Movie Makers Inc. The subject of the film is extremely gripping and will appeal to the audience of all age groups. The cast of the film which includes our favorite Nana Patekar, Shriya Saran, Ali Fazal and Taapsee Pannu will only take the film a notch higher."
Mr. Sameer Dixit & Jatish Varma of Movie Makers Inc. said, "We are proud to be associated with such a content driven cinema. This is a never before seen combination of Nana Patekar with Prakash Raj & with such a unique ensemble cast, the audience is sure to enjoy this light-heartedentertaining film."
All we can say is that looking at the powerful mettle of the makers and the fresh pairing and unique combination of cast, Tadka – Love is Cooking promises to be a dish we all shall look forward to the box office!!