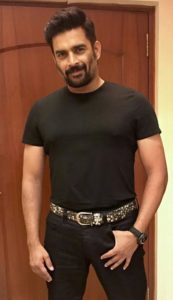 Here's some exciting casting news! Actor R Madhavan will be seen in Eros International and Viki Rajani's upcoming space odyssey Chandamama Door Ke directed by Sanjay Puran Singh, which is touted to be Bollywood's first space adventure film.
The film stars Sushant Singh Rajput along with Nawazuddin Siddiqui; while Sushant plays the titular role of an astronaut, Madhavan will be seen as a pilot for the Air Force.
Madhavan says, "I can't wait to see this film with my son…such an awesome story and fantastic team…it's cutting edge and I can't wait for the party to start".
Producer Viki Rajani added, "Really happy to have Madhavan on board who plays the role of a daring test pilot for the Air Force. He is a terrific actor and long with sushant and Navaz we are going to have amazing performances from all . Madhwan is super charged and excited to be part of this movie, like all the other actors and technicians, we are happy to have him on our team."
Recently stars Sushant Singh Rajput and Madhavan tweeted their excitement about working on the project together!
I've been your fan since a long time.
Can't wait to start working with you bro. @ActorMadhavan . ✊#chandamamadoorke

— Sushant Singh Rajput (@itsSSR) February 7, 2017
Brotherrrrrrr the feeling is Mutual… you know I was blown by MSD .. cant wait for the Magic to start … https://t.co/wL3JFqR9Gn

— Ranganathan Madhavan (@ActorMadhavan) February 7, 2017
The film is set to hit the floor later this year.
With a brilliant cast that includes Sushant Singh Rajput, Nawazuddin Siddiqu and Madhavan we certainly cannot wait to see this film!
.