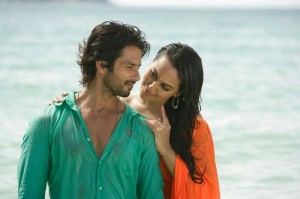 Despite an all around cynicism surrounding it right from the time Shahid Kapoor on board for this Prabhu Deva directed affair, R… Rajkumar managed to enjoy a good week at the box office. Even though the film enjoyed a healthy weekend, there were detractors baying for its blood and being almost sure that it would crash during the weekdays. This didn't happen though as audience gave a green signal to the film, hence allowing it to collect consistently in days to follow as well. Result? First week collections are in the tune of 47 crores, hence paving the way for a more than respectable lifetime total ahead.
For Shahid Kapoor, the film is a huge respite indeed. Not just it has managed to cross the lifetime total of his biggest grosser till date, Kaminey [42 crore], it is also set to be one of the top grossers of the year. Ditto for Sonakshi Sinha who would now end the year on a high with a bona fide success under her belt.
As for Prabhu Deva, his track record of 100% success stays intact in the world of Hindi movies. Eros too has managed two back to back money spinners in the form of Ram Leela and now R… Rajkumar. Meanwhile producer Viki Rajani has entered the big league after starting 2013 with a small budget, but impressive success Table No. 21.
The film is looking at a lifetime total of at least 70 crore though a bigger total would be a challenge since Dhoom 3 strikes next week.
Another release of the week, Club 60, was a complete non-starter and didn't have much to cheer about other than enjoying some good reviews coming its way.