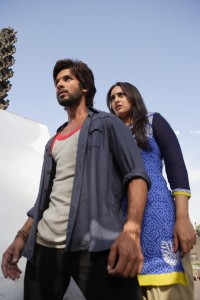 Directed by Prabhu Dheva, 'R…Rajkumar' stars Shahid Kapoor, Sonakshi Sinha and Sonu Sood and is scheduled to hit on the 6th of December. As we told you the trailer for the perfect masala blend of action-drama-comedy-romance done Prabhu-ishstyle film has created quite a storm and has hit over 3 million views on the video on YouTube.
Director Prabhu Dheva is really happy with the response so far but says wait and watch there is more, "We are glad that the trailer has been well received and are looking forward to the enthusiasm continuing till the release of the film, and even after!"
While the cast is enjoying the praises, they are also working hard to shoot the climax of this high-on-action romantic comedy. We hear that the climax involves grueling action-sequences between the hero and the villain of the film- Shahid Kapoor and Sonu Sood. While the actors are going through rigorous training sessions for the climax, they are trying their best to look out for each other. Shahid and Sonu are extra-cautious about not hurting each other, even accidentally, while maintaining the authenticity and conviction of the characters.
Producer Viki Rajani says, "Filmmaking becomes easier, when the actors enjoy a fun equation among themselves. In R…Rajkumar, we have been lucky to have just that."
In case you have not seen it yet!

Synopsis: Eros International & NextGen Films' R…Rajkumar is a visually striking, stylized and persuasively real film. Audiences will see the expensive canvas that it is shot in, depicted in a manner that is as real as it is raw.
Shahid Kapoor essays the role of Rajkumar – a rugged, rebellious, passionate fighter who also has devilish charm. One moment he makes you feel really comfortable and the very next, completely ill at ease!
Rajkumar is sexy, brooding and raw!
Sonakshi Sinha plays the role of Chanda – a gorgeous, strong character. She is the niece of a poppy lord called Manik Parmar. Feisty, independent with a mind of her own, Chanda has you weak in the knees one moment and running for safety at the very next. A perfect amalgamation of sugar and spice.
R…Rajkumar – is a Romantic Action Love story set in dusty and rugged backdrop of the Hindi Heartland. A film that has out and out desi tracks (true dance numbers) with loads of intrigue, thrill and fun – a perfect entertainer by all means. The ravines shall tower high over the Poppy Fields, overlooking a dangerous foundation without law, justice or order.
Prabhu Deva's next dhamakedaar entertainer will challenge, implore, conjure and paint a nice landscape of good and evil in almost equal proportions pumping out high octane entertainment from the very first second !!
The film has a lot of cool visuals, fresh & crazy action (Prabhu ishtyle) offering a different perspective representing what LIFE can be & a perfect balance between GOOD and EVIL!
While the high-octane film is essentially a love story about  PYAAR PYAAR PYAAR  ya MAAR MAAR MAAR it has all the ingredients of an out-and-out masala potboiler – R…Rajkumar comes to a theater near you 6th December to say "Silent Ho Ja Varna Main Violent Ho Jaunga ".