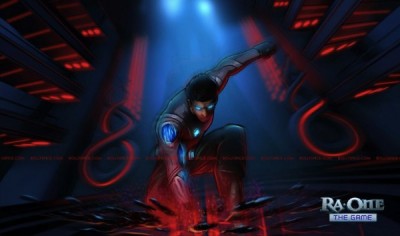 Produced by Red Chillies Entertainment, Ra.One, directed by Anubhav Sinha and starring Shah Rukh Khan, Arjun Rampal and Kareena Kapoor is one of the films that fans are eagerly awaiting to hit cinemas this year. It is a superhero tale that includes out of the world special effects and action sequences and is apparently one of the most expensive films made in Hindi cinema. As we reported first, part of the really cool promotions and tie-ins for the upcoming superhero film Ra.One, is the development of a Sony Playstation Game for both PS2 and PS3. Developed by Trine, this is a first for an Indian film and from what we hear the game is fab! According to Bottomline Media, "We are very excited about the Sony Playstation-Ra.One Game association. For the first time ever in India you see The SRK on the Playsation game." So, when can you get your hands on a copy? This September!
Based on an idea by Shah Rukh Khan, it features voiceovers by SRK, Arjun Rampal and Kareena Kapoor. The game's adventure is a prequel to the film: you get to meet the characters, learn their super powers and get immersed in the world of Ra.One, before the film even releases in October. So you can play as SRK's G.One, Arjun Rampal Ra.One and Shah Rukh told us exclusively earlier there is even a good and a bad Kareena character!
Shah Rukh Khan is very excited about this game, "It has been a dream since childhood to be somehow involved in videogame designing or making them as all kids dream of. So now many years down the line the dream is fulfilled!"
Adding, "Double pleasure gaming and movies….Ra.One on PS 2 & PS3…feeling like a kid all over. Hope everyone enjoys the game and also the movie. The game is awesome fun…G.One looks cool…so does Ra.One and Kareena in an avatar which everyone will enjoy….too thrilled. Finally can play a game…be a gamer and the game itself…YAY!!!"
We say YAY too and that we can't wait to play the game to hold us over until we can see the film when it releases on October 26th.
We have some exclusive screenshots of the game! Check out how cool and how good SRK looks in the virtual world too!