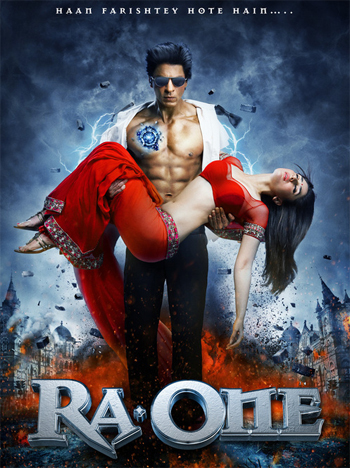 The wait is over. India's most expensive film ever and the most extensive and creative marketing campaign ever seen there. Ra.One is Bollywood superstar Shah Rukh Khan's platform to play the quintessential superhero. The film is written and directed by Anubhav Sinha (Tum Bin, Dus) and has music by Vishal-Shekhar (featuring rap-star Akon).
Shah Rukh Khan plays a computer game designer, called Shekhar Subramanium, who lives in London with his wife Sonia (Kareena Kapoor) and son Prateek (Armaan Verma). Prateek is a computer whiz, who is heavily into games and thinks his father is a coward in real life. He taunts him to make a brave game in which the villain never looses, however things go wrong when the game's villain (Arjun Rampal as Ra.One) comes out of the game and into the real world to avenge losing to Prateek in the virtual game they played. The hero of the game is G.One and is made in the image of Shah Rukh. G.One is bought into the real world from the virtual in order to help save Prateek and the world from Ra.One.
What is evident about the film is that money was well spent in the graphics and special effects departments – Ra.One is glossy, has high production values and looks good. Conceptually it is modern in its vision, the film explores the virtual world and interactive computer generated games.
Some of the key action scenes were executed to international standards: the car chase sequence across London was thrilling, the debut fight between Ra.One and G.One at London's Battersea power station was fun and the crumbling of Victoria Terminus station in Mumbai was amazing.
From an acting perspective Arjun Rampal as Ra.One was menacing! Kareena was good as the leading lady – the negative streak of her character was great! But I'm afraid that's where it ends for me…
Shah Rukh plays a south Indian character who is geeky in nature, which leads to him acting over-the-top while he doesn't even manage to keep his accent consistent. Furthermore, as G.One he acts more like Rajnikanth's 'Chitti' character from Robot, but G.One is clearly not a robot and therefore presents us with nothing new! Additionally, the much talked about train sequence was not as good as the one in Robot for me and the special appearance by Rajnikanth as Chitti will attract applause, but is wasted here.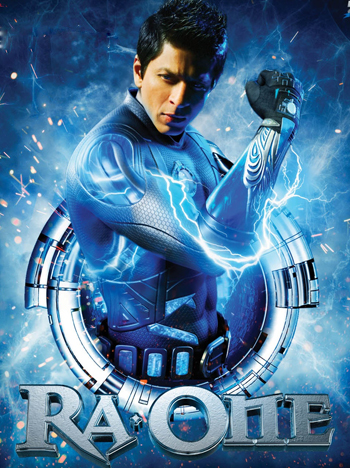 Script-wise the superhero is an established genre in Hollywood and there are direct influences taken from a number of Hollywood superhero films, which is fine if that's the source material you're working from, but the makers were unable to blend that with the Bollywood masala formula – the comic scenes, the romantic-track, the loud background score, the lip-synched songs and even the Ramayan backdrop, just don't gel well together. Moreover, it takes around 45 minutes for the film to really get going, which sadly includes all the distractions mentioned above.
So, will you enjoy Ra.One? Well, kids clearly seemed to be enjoying it in the showing I was in and Shah Rukh has said that he partly made Ra.One for his children, so box ticked there, young ones will love it!
If we're talking about the ordinary cine-goers then I can't see the Dabangg and Ghajini crowds really relating to this or enjoying it as much. As for the western audiences, with the plethora of Hollywood superhero films on offer and an expectation to see Shah Rukh films for what they are – romantic Bollywood sagas, this film doesn't even offer a middle-ground between the two genres.
That leaves the hardcore Shah Rukh fan base, to whom I say: remember how Asoka was meant to be Shah Rukh Khan's Lagaan and Veer was Salman Khan's attempt at period drama, both failed miserably and for me Ra.One from a script and film perspective fails and lets down both his fans and those of us interested to see Bollywood's take on the superhero genre.
Anubhav Sinha's direction is competent, but given that he wrote the script and screenplay, he lets his own film down. Music wise, hats off to the work Akon did, but bar that it isn't anything amazing. At 160 minutes and with Martin Walsh as one of the editors (supposedly editor of Prince of Persia also), he clearly could have done with more trimming in order to keep the film at an international pace.
Ra.One is an improvement on what we've seen in Bollywood from a special effects perspective. Shah Rukh has set a new benchmark for how to market and present Hindi films and it will most likely make money at the box office. Sadly, poor characterization, a weak script and the inability to blend Bollywood style with the superhero genre let Ra.One down. You can spend as much money as you want, but if your script is poor, then you will always fail – once again, this is what's happened here.
For me it's a one time watch if you're curious, best saved for DVD and will be quickly forgotten. A massive opportunity gone to waste!