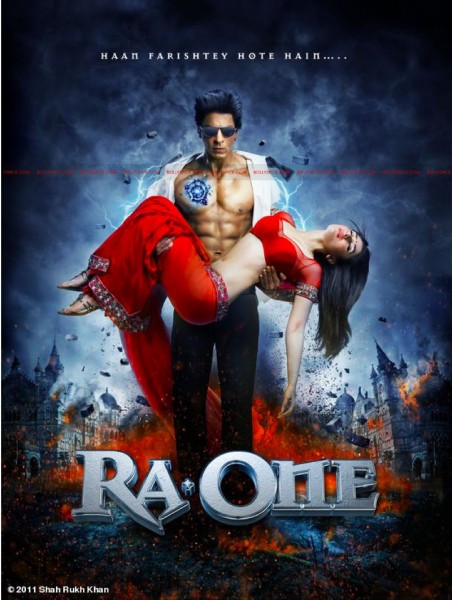 The wait is finally over. After months of teaser promos and leaked mp3s the official soundtrack of Ra.One is now available for one and all.
Ra.One marks yet another attempt by Indian Cinema to tackle the genre of high budget blockbuster films featuring superhuman beings saving the world akin to its American counterpart. How the film fares at the box office is out of this document's subject matter jurisdiction because we are solely here to give you a low-down of the much-awaited soundtrack of Ra.One.
Vishal-Shekhar are the maestros behind the music of Ra.One while Panchi Jalonvi, Nirangen Iyengar, Vishal and Kumaar have penned the lyrics. The soundtrack features 15 tracks showcasing the vocals of Senegalese American R&B singer Akon, Shafqat Amanat Ali ('Bin Tere' – I Hate Luv Storys), Sukwinder Singh ('Dhan Te Nan' – Kaminey), Clinton Cerejo ('Hey Ya' – Karthik Calling Karthik and 'Kya Karoon' – Wake Up Sid), Shruti Pathak ('Mar Jawan' – Fashion) and Hamsika Iyer ('Chanda Re' – Eklavya) amongst others.
Ra.One stars Shah Rukh Khan, Kareena Kapoor and Arjun Rampal and hits cinemas Diwali 2011.
The soundtrack commences with Chammak Challo which, lets face it, needs no introduction. With a brilliant combo of Middle-eastern, Indian and contemporary music, 'Chammak Challo' has won the hearts of millions. It is addictive, so much so that the addicted may very well require a court-ordered rehabilitation program to divest themselves of it effects. What Akon looses in pronunciation and legibility he gains in oomph and attitude while Hamsika Iyer wows in Hindi and Tamil alike. Vishal-Shekhar without a doubt have an anthem on their hands with this one. 'Chammak Challo' appears in two versions, a film version which includes Hamsika Iyer and an International solo version by Akon. Unfortunately, as enjoyable the originals are, the tracks various remixes are far from it. The Punjabi mix gets off on a promising start, but falters shortly after while the other two remixes are unimpressive from the word go.
Dildara (Stand By Me) is next. A sweet little song with a brilliant fusion of classical Indian and contemporary music, 'Dildara', like its predecessor 'Chammak Challo', wasted no time in winning hearts. Shafqat's powerful vocals are well supported by Vishal, Shekhar and Clinton and do ample justice to Kumaar's lyrics. In many ways, Vishal-Shekhar have retained the feel of the Ben E King's 'Stand By Me' and at the same time made the song their own. In short, 'Dildara' is all heart.
Criminal is Akon's second number for the album and while it is not as effective as 'Chammak Challo', 'Criminal' still has its charm. It can be loud in portions and the vocals are sometimes shrouded by the loudness of the music, but the good mix of dhol-tastic Punjabi music with pumped up club-like music do not make it a total write-off. The English lyrics are a tad bit tacky but the Hindi lines are relatively good and vocalised well by Vishal, Shruti and Akon. A remix for 'Criminal' seems pointless as the track is quite loud and fast to begin with, but needless to say 'Criminal's' remix does exist. It achieves nothing that the original did not and is rather unimpressive.
The album takes a sombre turn with Bhare Naina. It commences like any other classical track, but transforms into a powerful rock ballad. The chorus seems somewhat disjointed with the rest of song but other than that it is a brilliant track. Where has Nandani Srikar been hiding all this time? She is brilliant and with the uprise of singers like Shraddha Pandit, Rekha Bharwaj and Richa Sharma, it's a wonder we have not heard of her before. She brings Pannchi Jalonvi's lyrics to life nurtures it within an outstanding composition by Vishal-Shekar.
The album then lightens up with Siddhartha Coutto's Right By Your Side. If you liked 'Jaane Kyon' from Dostana, you'll love this track as it encompasses the same uplifting and warm feeling. It is rather cute and should become an instant hit with kids. Coutto's energetic and youthful vocals are the USP of the song while Anvita Dutt Guptan's optimistic and hopeful lyrics make the song worth your while.
Next up is Raftaarein, a supremely cool track which can only be described as the past clashing with the future in a most fantastical manner. Vishal and Shekhar have created a mind-blowing number that even R D Burman himself would be proud of. They say imitation is the greatest form of flattery and an imitation of this calibre can only be termed a true tribute to the legend.
Jiya Mora Ghabraye (The Chase) is another brilliant fusion number from Vishal-Shekhar. Sukwinder Singh singing Indian classical against the backdrop of high-octane electronica is totally rad. Do not be surprised if Vishal-Shekhar are dubbed the Chemical Brothers of India very soon.
The album concludes with three pieces from the film's background score, Comes the Light, IM On and Song of the End performed to perfection by the Prague Philharmonic Orchestra. 'Comes the Light' is a succinct little summary of the film's emotions; sinister, powerful, sad, and victorious. 'IM On' is the most impressive out of the three and the shortest. It starts with bang, builds up to a brilliant crescendo and ends just as soon as it started. 'Song of the End' is a haunting yet beautiful piece of music that makes you soar and fall at the same time. All three thematic pieces have been brilliantly composed and can definitely challenge the likes of John Williams, Hans Zimmer and Danny Elfman.
In summary, Ra.One was definitely worth the wait. Vishal-Shekhar have clearly gone all out on this project. While 'Dildara' and 'Chammak Challo' are the obvious favourites it is the finer and more edgy compositions like 'Bhare Naina', 'Raftaarein', 'Jiya Mora Ghabraye' and the thematic pieces that take your breath away and give a true account of the talent inside Vishal-Shekhar. 'Criminal' and 'Right By Your Side', while not outstanding are still decent numbers. At the end of the day the music of Ra.One is massively entertaining so let it entertain you.