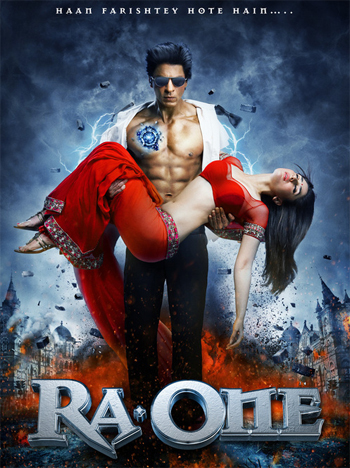 Ra.One has only been in theaters for about a week but already we hear that plans for a sequel to the hit film will soon be in the works! Writer of Ra.One, Mushtaq Sheikh confirmed the news to the Hindustani Times saying, "Without a doubt, a sequel is on its way."
Apparently it was during the filming of Ra.One that they had the idea that a sequel could be made. "When we were just half-way through, we knew a film like this would demand a sequel."
It seems by the time they came to the end it was a definite plan. Many people commented on the fact that the ending of the film left it open for another story to come. Sheik agrees saying, "The way we left it at the end shows how G.One has come back."
In fact, ideas for part two have been discussed, "Shah Rukh believes in it. It's completely his vision. We have discussed part two. Like everyone else, he also has some ideas in head," Sheik said.
In an interview with Subhash K Jha, director Anubhav Sinha also talked about more Ra.One films coming in the future, "I won't deny Shah Rukh and I have already spoken about a sequel." Adding, "In fact, Shah Rukh already has the plot worked out till Part 5."
For now it is still something to think of after a long vacation. Sheik says "Right now, we all are soaking in the energy of Ra.One, which took five years of hard work. After the film's success party, we will sit together and start work on the sequel. The thought process has already kicked off."
As Shah Rukh himself tweeted, "picture abhi baaki hai mere dost". However, we will have to wait and watch to see what the next adventure for G.One will be!