The highly-anticipated Shah Rukh Khan-Kareena Kapoor starrer Ra.One has wrapped its shooting and is readying for release in October. The film shoot coming to an end seemed to be a bittersweet event for SRK, as he tweeted: "Ra.One shoot finally over. We start films so that we complete them fast…but when they finish there is a sense of emptiness as if a difficult but passionate relationship has come to an end." How emotional! This movie must really mean a lot to Shah Rukh Khan. He continued on, saying "Film making is like love….like falling from a building…but not feeling the impact or the hurt till you reach the end. Here's to new beginnings…cos endings are just beginnings backwards." Very philosophical Mr. G.One!
Director Anubhav Sinha seemed to share SRK's sentiments, tweeting "Last shooting day of Ra.One. One of those strange moments that make you equally happy and sad." To put it into a more tangible perspective, Anubhav continued, saying "150 days, 1.2m ft of stock, ridiculous man hours, broken bones and matte boxes, sweat, blood, tears, joy, rumors, frustrations, ecstasy, some serious money, finally Ra.One principal shoot is over." Last but not least, Anubhav couldn't hide his excitement over the final shot he canned. "And did I tell you about the LAST SHOT? It was EXPLOSIVE!!! I rarely scream with joy looking at a shot…" We can't wait to see it!
Shah Rukh also gave his fans a delightful treat by posting a picture of the futuristic bike he rode in the film, as designed by Sabu Cyril.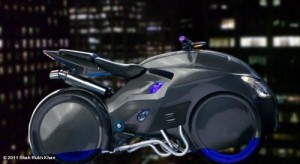 The cast and crew stayed up until 3 am shooting and then popped champagne to celebrate, partying until the wee hours of the morning, relishing the feeling of a job well done and finally left the set at 7 in the morning. Wow! Superstar ho to aisa.
Bollyspice will continue to bring you all of the latest updates about Ra.One until its release. Stay tuned!