All along we have bringing you exclusive news about the upcoming, do we need to say highly anticipated, film Ra.One! Now we have some more cool news for you! The trailer is on Apple's trailer page, which is fab enough, however, the trailer is in full HD glory and looks absolutely amazing!
You can check it out here! http://trailers.apple.com/trailers/independent/raone/
Didn't we tell you it looked amazing!
Directed by Anubhav Sinha and starring Shah Rukh Khan, Kareena Kapoor and Arjun Rampal, Ra.One is said to be one of the most expensive films made to date and they are still in post-production. During this post production phase director Anubhav Sinha has tweeted a little teaser here and a little info there.
"Tomorrow, hearing the BG score for the first Half…. I love making movies.…"
"Superb meeting at the Vfx…. watched over 400 shots and 5 concepts… Signed off over 300 shots….. HAPPY ! ! !"
He also tweeted a picture of Arjun Rampal dubbing for the film.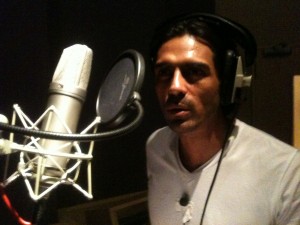 We won't get to see what Arjun's Ra.One looks like until about ten days before releases. As Arjun told us exclusively, "They have thought of a whole strategy for promoting the film and a part of that strategy is that we don't reveal the bad guy…so you'll have to wait."
"And yeah you know… SRK doesn't want to promote me, he only wants to promote himself", he added tongue-in-cheek and with a huge smile on his face.
After one very long day at the studio, Sinha wrote, "Just got back home. DEAD. Did SO MUCH today. Those beautiful notes in the chase track. That song edit. That Trailer and some samosa time with the Edit team. SO MUCH JOY. Have just 4 hours to sleep. But I must. And I must Dream. Coz Dreams do come true. This one just did. Good Night."
As for when we will get a new trailer all he will say is "Soon!" Adding, "For those who are intrigued by my definition of SOON… It is a little before LATER and and little after Very Soon…"
We do know that Ra.One, will have its world premiere in London on October 25th! You can be sure we will be there to cover it so stay tuned for many more exclusives here on BollySpice.com!