We have been telling you about all the unique tie-ins that Ra.One has been a part of for the promotions of the film. One of the coolest is not just a tie-in, but the company's merchandise was actually used in the film…well blown up actually. We are talking about the German car company Volkswagen, who provided many of the cars you see rolling over and being tossed in the air in Ra.One. The partnership of Ra.One and Volkswagen was celebrated at an exclusive event on 11th Oct 2011 at Taj Lands End with star Shah Rukh Khan and producer Gauri Khan in attendance as well as CEO, Volkswagen India Neeraj Garg, Shahana Goswami and Taanaz Bhatia of Bottomline Media, the company responsible for putting the association together.
Garg said, "We are delighted and it has been our pleasure to be able to support this film with our carlines especially the Touareg which plays a role in the movie. We wish a successful release of the movie."
Taking the stage Shah Rukh Khan said, "I just want to say, first of all, a very big thanks to everyone at Volkswagen for associating themselves with the film Ra.One. This film has been very, very special. I am so thrilled and I am so excited, apart from the fact that it is a movie that we have designed for five years, we had someone come on board to help us in London through out with all these car chases. They are very expensive to say the least and to have a partner like Volkswagen allowing us to do the stuff we did to their cars and still remain completely unscathed and unscratched. (Smiles) Thank you to everyone here from the company and the team. I am really absolutely indebted and extremely grateful for this association. I just speaking as an actor, my wife is the producer of the film. She is very thrilled that we saved some money because you allowed us to blow up those cars."
He then very wittingly talked about the 'Chammak Challo' craze and the request for it at every event and then proceeded to perform the steps completely adorably!
Check out this shot: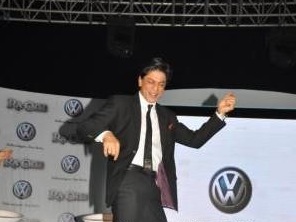 Next up to the stage was Gauri Khan looking gorgeous of course… When asked, "What is the most difficult thing about being a producer besides dealing with actors?" She laughingly replied, "Signing the checks." They then joked the next big thing will be depositing all the checks!
Volkswagen then presented her with a special black Volkswagen Phaeton, one of the car company's luxury brands.
Check out these exclusive pictures from the event only on BollySpice.com!!