Believe it or not but being unconventional is the new black. Whether its a fashion statement or a film, the quirks are what makes us individuals and unique. Its real life on screen as Anand L.Rai showed a quirky style of story-telling with his 2011 hit Tanu Weds Manu. And, the audience enjoyed it. We saw sparkles when he cast two actors, R. Madhavan and Kangna Ranaut, who not only fit the roles but worked as an on screen pair as the unlikely couple. Sure there have been others, but a simple tale of an NRI coming back to India to find a bride is a page out of life, and the actors were people the audience related to. So naturally his next film will grab the interest of a few. Add in the combination of fashionista Sonam Kapoor and multi-talented actor-writer from the south, Dhanush, in lead roles, Abhay Deol roped in for a special appearance, and A.R.Rahman for the score, and all you have to do is wait. For Raanjhanaa that is.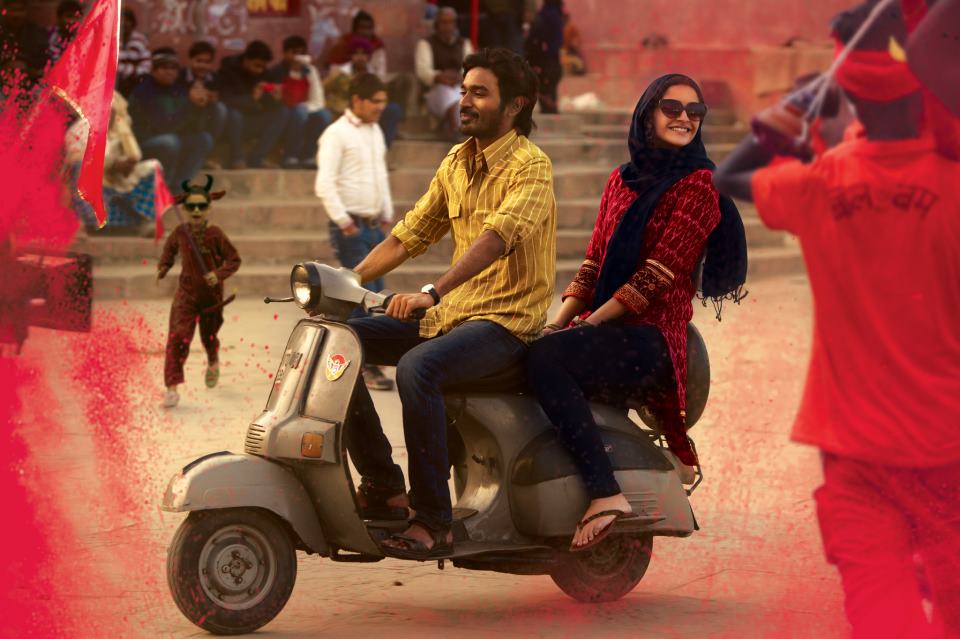 The news articles we've seen have done nothing to appease the curiosity surrounding the film. Right from the location of Varanasi to the on location sneak peak shots up, right until the latest confession by Sonam Kapoor that Jaya Bachchan's role in Guddi inspiring her. But it didn't stop there. News of A. R. Rahman becoming so impressed with the story, he requested to keep the script given to him added fuel to the fire. But where's the connection? Whats the story?
The "intense love story" as so referred to by director Rai, is supposedly to showcase Sonam and Dhanush's journey together through varying ages, which would explain the high school uniform pics of the two on set for the film. So while we were patient with the delays in filming, the culmination came about on Holi this year – The First Look.
Bright colours, beautiful smiles and an aura of love brimmed to the border. Simplicity was Anand's modus operandi previously and it appears it is again for Raanjhanaa. The Eros Entertainment production is set to release June 21, 2013!
Discover the colours of love with Dhanush & Sonam Kapoor in their upcoming romantic film 'Raanjhanaa'. Presenting the exclusive theatrical trailer of 'Raanjhanaa' a Anand L. Rai directorial film.