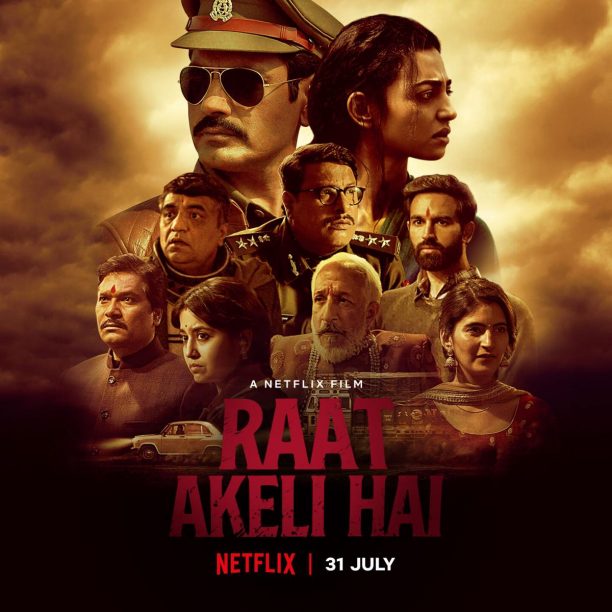 Raat Akeli Hai (Netflix)
Starring: Nawazuddin Siddiqui,Radhika Apte,Shweta Tripathi,Tigmanshu Dhulia,Shivani Raghuvanshi
Directed by Honey Trehan
A death in the family kills a lot of hopes and expectations built around the life of the person who is no more.
…Or less. Raat Akeli Hai, a skillfully scripted whodunit that is much more than just a murder mystery, opens with two deaths, both connected to the same family. The patriarchal nightmare of the Singh parivar, a feudal kingdom where kinks and whims rule, where the men decide the quality of the air women should breathe, is brought to life in flickering colours of dark furtive suppressed emotions.
Straightaway we must applaud Pankaj Kumar's cinematography. A lot of the intended incandescence of seething hearts is lost on the OTT platform. What remains is still remarkable. First-time director Honey Trehan creates a dark sinister self-contained universe of painful gender discrimination shaken up by the murder of the patriarch on his wedding night…His SECOND wedding night. The horny Thakur's bride is a free-spirited libertine– or at least that's how she comes across–who has been sleeping with the aged man of the house and his robust nephew Vikram.
Enter Inspector Jatil Yadav, a hard nut to crack, and known to crack open difficult cases, Jatil(with an 'l') is a Mama's Boy attached at his mother Ila Arun's apron strings and probably still a virgin. This virgin cop is sitting duck waiting for a …never mind! It doesn't take Jatil long to get attracted to Radha, the promiscuous newly-widowed second wife of the newly-slayed Thakur.
It's to writer Smita Singh's credit that she builds a remote humour around Jatil's struggle to change his marital status. That he falls head over heels in love with Radha is a providential for the plot. Not only does the growing relationship between the quirky cop and the wanton widow take the narrative to the level of a Greek tragedy, it also propels the whodunit into a kind of romantic somersault where love and murder, blood and semen mingle into a stirring often provocative film.
In a film as complex and compelling as Raat Akeli Hai, the casting is supreme. Casting director turned filmmaker Honey Trehan gives the murder mystery the actors it deserves. Both Nawazuddin Siddiqui and Radhika Apte gather their considerable nervous energy into performances that constantly suggest there's more to the proceedings than meet the eye.
Raat Akeli Hai is impressively reined-in about its rage for a society that allows men to treat women as objects of lust. Every major character, man or woman is angry. But none is given the luxury of unchecked expression. The deep sorrow that encircles us while watching Raat Akeli Hai is all well worth experiencing. It is what makes life bearable.