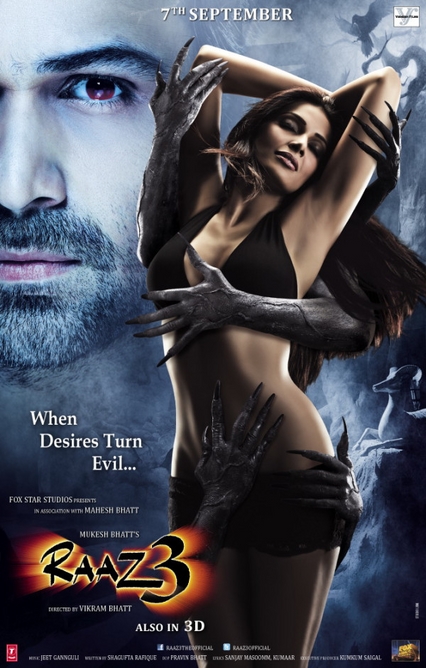 The Raaz franchise re-emerges with its third film, Raaz 3 this year. Great music has been synonymous with the last two movies and with names like Emraan Hashmi and Mahesh Bhatt associated with it, expectations are certainly running high. Raaz featured music by Nadeem-Shravan while Raaz – The Mystery Continues featured music by Raju Singh and Toshi-Sharib, the second being very contemporary and the first relatively traditional. Both, immensely popular.
The new-ish Jeet Ganguly (Shirin Farhad Ki Toh Nikal Padi) has composed the songs with a guest composition by Rashid Khan. Lyrics have been penned by Kumaar, Rashid Ali and Sanjay Masoom while vocal talents consist of Javed Ali ('Guzaarish' – Ghajini), Shafqat Ali (Tum Mile – Title Track), K.K (Desi Boyz – Title Track), Sonu Nigam (Jabse Mere Dil Ko Uff – Teri Meri Kahani) and Shreya Ghosal (Chikni Chameli – Agneepath). The album has 6 tracks and is devoid of any remixes or reprises.
Raaz 3 hits cinemas 7 September 2012.
The album begins with Deewana Kar Raha Hai which is sung beautifully by Javed Ali. Written and composed by Rashid Khan, the track demonstrates a sweet and quiet intensity in terms of lyrics and music. Rashid employs as nice amalgamation of instruments and pens the track brilliantly as well. In short, impressive.
Jeet Ganguly takes over the album with Zindagi Se. In the same line as Deewana Kar Raha Hai, Zindagi Se also starts slow and then picks up the pace. Shafqat does a great job singing the track. His vocals compliment Masoom's well-penned lyrics. Like Rashid, Jeet also has a good command of mixing and alternating between a variety of instruments and makes Zindagi Se a wholesome number.
K.K's Rafta Rafta is pleasant enough but in light of the previous Bhatt-K.K compositions, it falls short. One only has to remember Zara Sa from Jannat 1 and 2 to feel what the track lacks. Other than that, it is a reasonable composition that is penned well by Masoom.
Oh My Love, suffers from the same fate as Rafta Rafta. It is lacklustre and entirely mediocre for a Sonu Nigam and Sherya Ghosal track. O Soniye from Raaz – The Mystery Continues immediately comes to mind, a soulful romantic number with a timeless quality that also featured Sonu and Shreya. Oh My Love, on the other hand, fails on all accounts.
Kya Raaz Hai also fails miserably, mainly due to Shreya Ghosal. Her vocals sound out of place against Kumaar's lyrics about raw ambition and power. She does render the 'morey saiyaan' portions of the track relatively well and her vocal capture the hurt and desperation perfectly. Zubin on the other hand does a fantastic job and brilliantly vocals the angst and regret ridden lyrics. Usually a Bhatt situational number is entirely listenable away from its onscreen counterpart, but this time round Kya Raaz Hai does not hold its own. Kaisa Yeh Raaz Hai from Raaz – The Mystery Continues was a fine example of a situational number that worked fantastically as a stand alone.
The album ends with Khayalon Mein. It is a sweet and girly number that Shreya renders well. However, it seems a bit out of place in an erotic-thriller. Regardless, it has a youthful bounce to its music and the lyrics are fairly a decent. All in all a good track.
In summary, Raaz 3 fails in comparison to its predecessors. That being said, it does not have a bad collection of songs. The songs simply do not have that endearing and haunting touch to them. In any event Deewana Kar Raha Hai and Zindagi Se are not be missed. Khayalon Mein also has its appeal in a sugar-and-spice-and-everything-nice kind of way but the rest of the album is mostly unremarkable. Hopefully, the film infuses some sizzle back in the soundtrack.