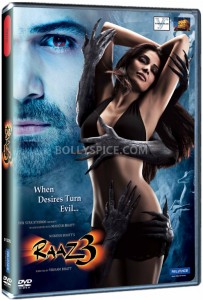 At a star studded event, Reliance Home Video & Games launched the home video of Raaz 3. Among those present were Mahesh Bhatt, Mukesh Bhatt, Vikram Bhatt, Emraan Hashmi, writer Shagufta Rafique and Reliance Home Video & Games COO Sweta Agnihotri.
The film, presented by Fox Star Studios & produced by Vishesh Films, has been directed by acclaimed filmmaker Vikram Bhatt. Raaz 3 stars Emraan Hashmi, Bipasha Basu and Esha Gupta.
The movie is available in a variety of formats to suit your home-viewing pleasure. So grab a copy today to watch this super-hit horror film on Anaglyph 3D Blu-ray (MRP: Rs.799), Anaglyph 3D DVD (MRP. Rs.399), 2D DVD (MRP. Rs. 299) & VCD (MRP. Rs.125)
Speaking on the occasion Mahesh Bhatt commented, "Raaz 3 is an important film for us and I can smell roses everywhere, I was completely intoxicated with the response we got on the opening day, and today I am proud to launch Raaz 3 the 'baap' of all horror films on DVD, now experience this path breaking horror film in 3D DVD at home."
Mukesh Bhatt commented, "The film's success has given all of us at Vishesh films great satisfaction, especially since this is our biggest film till date, and this has happened in the 25th year of Vishesh Films' existence. Vikram is the one who convinced me to make the film in 3D when I was hesitant, and I thank him for that."
Vikram Bhatt said, "In times when no film has a theatrical run of more than six to eight weeks cinema, Raaz 3 is a milestone in many ways and in times to come you will cherish the DVD and the place it holds on your shelf. I believe the 3D home video of Raaz 3 is made for posterity. Earlier you had to own a projector and a screen to see films at home, but today it's a difference experience, and I believe the Raaz 3 DVD will be here even after we are long gone. We managed to bring 3D to theatres, but today we take it to your homes – you can watch the film in 3D even if you don't have a 3D enabled television."
Emraan Hashmi said, "Raaz 3 is a film where we wanted to push the envelope. Vikram has today made horror a mainstream genre. With the DVD and Blu-ray launch, people who missed the movie at theatres can now have the same experience at home."
Sweta Agnihotri, COO of Reliance Home Video & Games shared her perspective on the occasion of the DVD launch. "RHVG has excellent relations with Fox Star studios, Producer Mukesh Bhatt and Director Vikram Bhatt and for 'Raaz 3' we are delighted with this 'three dimensional' association. The words 'Bhatts' and 'blockbusters' are now synonymous. Raaz 3 has become a franchise that the audience looks forward to and we are sure they will appreciate the multiple options available to them on Home Video. The 3D Raaz 3 DVD is an incredible experience for everyone."
Synopsis
Set against the backdrop of the glitz, lights, glamour and carefully disguised cruelty of the Hindi entertainment world, a fading movie diva Shanaya (Bipasha Basu) turns to black magic to thwart an upcoming young starlet Sanjana (Esha Gupta) on her way to usurp the position Shanaya once held. She unleashes a spate of accidents on the hapless Sanjana, using her lover Aditya (Emraan Hashmi) as a pawn. Things go awry when Aditya falls in love Sanjana despite himself and avows to protect her against the evil that is consuming all of them.
Now Aditya has to fight, not just against the rage of his former lover, but also the evil forces that he himself has been instrumental in unleashing. In equal parts spine-chilling and riveting, Raaz 3 is as much a story of horror as much it is a human drama of love, ambition and insecurity.
Critics Comments & Ratings
The horror quotient in Raaz 3 is sure to make you break into a cold sweat… a lethal combo of sex and horror in 3D – Bollywood Hungama
Rating 3.5/5 – Taran Adarsh
Raaz 3 can scare, surprise and shock…  Rating 3/5 – IBN Live (CNN IBN)
Watch Raaz 3 for Bipasha and its 3D factor – Zee News