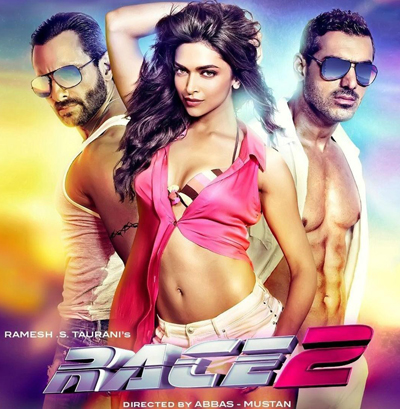 After the critically-panned Players (2012), director duo Abbas-Mastan have returned with Race 2, the sequel to the hit 2008 release Race. The only two actors to return for the second installment are Saif Ali Khan and Anil Kapoor. The rest of the cast are fresh, and include big names like John Abraham, Deepika Padukone, Jacqueline Fernandez and Ameesha Patel. Though Race was not an outstanding film, it was certainly more thrilling to watch compared to Race 2, which is lacklustre and unmemorable. Read on to find out why.
Race 2 sees Ranveer Singh (Saif Ali Khan) setting out to get revenge for the murder of his girlfriend Sonia (played by Bipasha Basu, who makes a brief cameo appearance in this film after having played a greater role in Race). As he is setting out to do this, Ranveer engages in illicit deals, gambling and crime with Armaan Malik (John Abraham). He is also seen romancing Armaan's half-sister Elena (Deepika Padukone) and flirting with his girlfriend Omisha (Jacqueline Fernandez). Ranveer is also reunited with his good friend RD (Anil Kapoor) and his new assistant Cherry (Ameesha Patel). The film has various twists and turns which results in Ranveer and Armaan becoming enemies by the second half. They then battle it out to see who will go onto win the 'race' to the finish line.
The film has been shot in exotic and beautiful locations like Istanbul, Antalya and Cyprus and also contains all the wealth and glamour you can imagine. Yet the script is not as exciting and creative as the first installment. Hence this makes Race 2 both boring and mind-boggling to watch. A number of the action sequences were enjoyable to see, but some of them were not as nicely done, especially the shots which you see during the climax. Abbas-Mastan have invested so much money in beautifying a film like Race 2, and this is visible when you watch it from start to finish. Yet you are left feeling that the entertainment factor was not really there. Some scenes were pleasant, but when you set out to watch an action-oriented film, you expect nothing but three things: entertainment, entertainment and entertainment! Sorry to disappoint you guys, but Race 2 is a film that is lacking in entertainment, which is unusual since the first instalment was more adrenaline-fuelled and contained better twists and action sequences.
Both Saif Ali Khan and John Abraham largely carry the weight of this film on their shoulders. They did a very good job in essentially keeping the film alive for everyone. However, you cannot say this about Deepika Padukone, who was honestly tedious to watch. After having delivered an amazing performance in Cocktail (2012), Deepika is reduced to playing a character who is just there to look sexy and glamorous. There was no real depth to her character and hence, her performance in Race 2 is arguably one of the worst she has delivered so far in her career. Both Jacqueline Fernandez and Ameesha Patel give decent performances, though their presence in the film was not as great as it could have been. Anil Kapoor was endearing to watch as the fruit-obsessed RD and some of the scenes he partakes in do make you laugh. Yet none of these performances are memorable in the long term. This is mainly due to the script, which required more spice in order to make the characters more intriguing to watch.
The soundtrack by Pritam is satisfactory, but not as flavoursome compared to the first installment. Songs like 'Be Intehaan,' 'Party on my Mind' and 'Lat Lag Gaye' are catchy, but they are not really that remarkable and the picturizations to them are also weak. Pritam only shows a tad of his talents with this one and thus, this makes the soundtrack to Race 2 quite average overall.
To sum up, Race 2 is not as energetic compared to Race and only contains a few scenes that might be gripping to watch for the mass audiences. Abbas-Mastan could have done something really astonishing with this film, but they fail to do so due to its unpolished script. In all honesty, Race 2 is not a film that is worth watching in the cinemas. Therefore, if you are someone who has patience, wait until it releases on DVD or is broadcast on television. This 'race' is essentially a messy one!