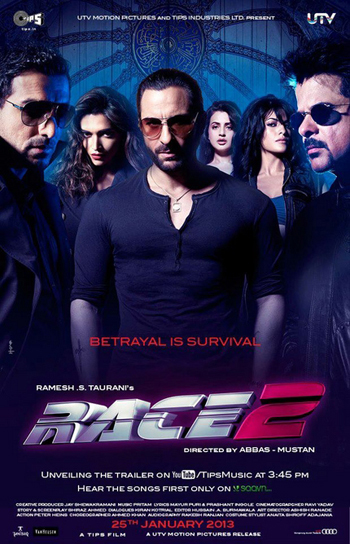 Race 2 is an upcoming action sequel directed by Abbas-Mustan and has a multi-star cast attached to it. It stars Saif Ali Khan, Deepika Padukone, Anil Kapoor, Jacqueline Fernandez, John Abraham and Ameesha Patel in key roles. The film is all set to hit the cinema screens on 25 January 2013. It is a follow up to the first installment, Race, which released in 2008. The film promises to be an adrenaline-fueled film which will hopefully rock the audiences' seats. The music to the film's soundtrack has been composed by the talented Pritam, who has recently given us albums such as Cocktail and Barfi. The lyrics have been written by Mayur Puri, who has also written for the soundtracks to Jannat 2 and Kya Super Kool Hain Hum. Prashant Ingole and Yo Yo Honey Singh appear as guest lyricists for the song titled 'Party on my Mind.' So does the soundtrack to Race 2 live up to our expectations? Let's take a look and see what it has to offer.
The first track is Party on my Mind, with vocals from Shefali Alvares, Yo Yo Honey Singh and K.K. I'm not a huge fan of the techno elements in this song, both within the music and from the female vocals also. It is of course a club-themed track and has been respectably composed by Pritam. I think this one will especially appeal to teenagers and to those who enjoy strong Western music samples in Bollywood songs. However, for me personally, although there is nothing unique about it, it is a catchy tune in its own right.
We also have Be Intehaan, which is performed by the lovely Sunidhi Chauhan and the charismatic Atif Aslam. Both singers have really delivered a good effort with this one and have showcased their talents very well. Sunidhi starts off the song beautifully with her silky and magnetic voice. Atif then follows this up with some intense, yet passionate vocals which I really loved. The music also complements very well with the lyrics and it is hence difficult to find any flaws with it. Overall, Pritam nailed this one pretty well. Definitely not a song which you should miss out on listening! There is also an Unplugged Version of this song which is performed by Rahul Vaidya. It's not as great as the original, yet it is worth checking out simply for Rahul's soulful voice.
Next up we have Lat Lag Gaye, by Benny Dayal and Shalmali Kholgade. The song is a club-themed track, with the typical drum and bass themes incorporated into it. It is an average song which has only some catchy elements to it. Benny's voice is as great as usual, but I felt that Shalmani's is not as strong. Thus, she has yet to win me over with a top vocal performance. However, I would not deem this as a skip-worthy song and recommend that you try it.
There is also Allah Duhai Hai, which is sung by Atif Aslam, Vishal Dadlani, Anushka Manchanda, Ritu Pathak and Michie One. I personally found that Atif's voice was the only highlight of this particular song. The rest of the singers were good, but they just did not push their vocals far enough in order to truly stand out in a song where the music is quite overpowering. No doubt this is due to the rock, techno and bass themes which form the composition. I think this song is on par with 'Lat Lag Gaye'. It's not an amazing composition, but neither is it skip-worthy. Therefore, see whether or not your ears will take a liking to it!
Race 2 – Mashup has all four key songs amalgamated into one track and they have also been remixed. I actually like this particular concept which Pritam has come up with and to a large extent, it works! It is unique, bold and something which we have rarely encountered in Bollywood soundtracks. Kudos to Pritam on this one! However, I cannot say the same about the individual remixes to 'Party on My Mind,' 'Be Intehaan' and 'Allah Duhai Hai' which are just boring to listen to. None of these needed to be remixed and therefore, I would advise you to skip these as the originals are much more enjoyable.
In conclusion, the soundtrack to Race 2 is not the finest kick-start to the New Year. It is not a badly produced album, but I felt that the soundtrack to the first installment was more flavorsome and in a league of its own. The real let-down is the fact that Race 2 is an album which only really has four songs, which is then filled with unnecessary remixes. Pritam has done an okay job with this, but I think he will deliver better compositions later on in the year, as he has some big projects in store for us. In general, Race 2 only showcases a tad of Pritam's true talents as a musician. Give it a listen and decide for yourselves whether or not you agree with us.