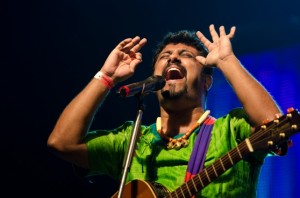 A few weeks back, Indian music star RAGHU DIXIT performed live in front of The Queen at Windsor Castle. He sang his song 'Mysore Se Ayi', surrounded by a troupe of dancers from Bangalore, the dance company owned and choreographed by Raghu's wife, Mayuri Upadhya. This coming Sunday (3rd June) ITV1 broadcast this spectacular pageant from 6.30pm – 8.30pm in a programme titled 'All The Queen's Horses: A Diamond Jubilee Special'.
Alan Titchmarsh hosts the pageant in the grounds of Windsor Castle featuring horses and performers from around the world, including the New South Wales Mounted Police and the Marwari Horses of India. Dame Helen Mirren, Rolf Harris, Omid Djalili, Sanjeev Bhaskar and other stars of stage and screen represent the different continents. The horses are accompanied by live music from some of the world's biggest stars including Susan Boyle, Joss Stone, Il Divo, violinist David Garrett and of course Raghu Dixit. The show also includes rare archive footage of the Queen during her sixty-year reign and will be a treat for all viewers this Jubilee weekend.
Raghu Dixit, who of course is known for his outstanding albums as well as the music for Mujhse Fraandship Karogee is getting ready to play for you! He embarks on a 2-month UK and European Tour this week, including dates in London, Birmingham and Leicester. The tour will see him perform at an 'Indian Summer' themed event at Shoreditch House (10th June), at the Birmingham Town Hall (13th June) and at a special charity fundraiser for MP Keith Vaz at the Radisson Hotel (15th June), alongside legendary Bollywood star Amitabh Bachchan. First concert is in London June 2nd!
Check out the other dates for the cool concert coming near you!