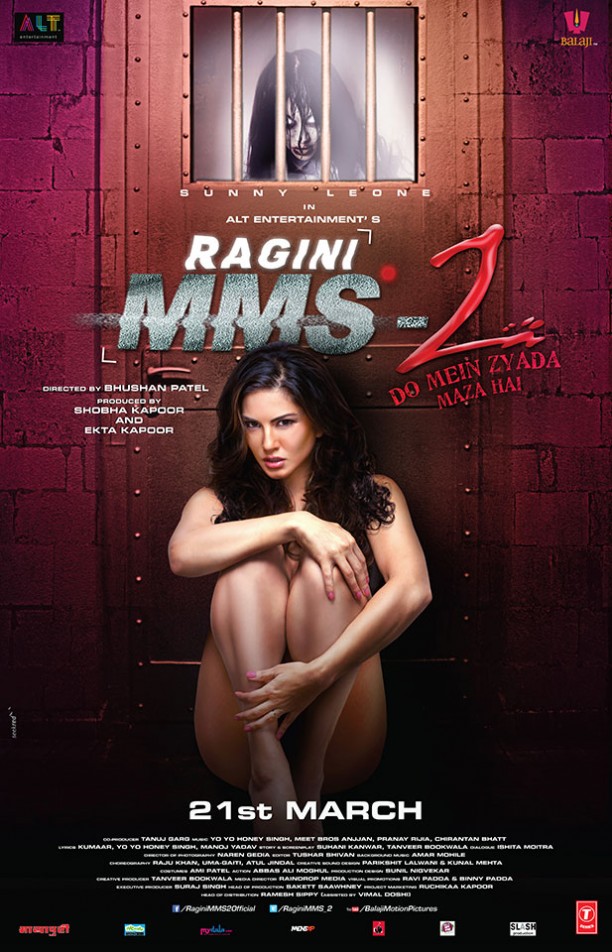 Ekta Kapoor is back to giving the audience what they want and delivering it in style. The writer-producer powerhouse's latest offering is directed by 1920 – Evil Returns' director Bhushan Patel. No doubt the leading lady of the film needs no introduction, the one and only Sunny Leone. However, apart from Sunny the film boasts of an intriguing cast ensemble consisting of Divya Dutta, Parvin Dabas, Sandhya Mridul, newcomer Saahil Prem and Karan Mehra. Sequel to the 2011  surprise blockbuster starring Kainaz Motivala and Rajkumar Rao, Ragini MMS 2 follows the storyline of the first instalment. 
Sunny Leone plays herself, an ex-porn film star who has now entered mainstream Indian cinema. She's cast by the flamboyant Rocks (Parvin Dabas) in his screen adaptation of the Ragini MMS incident. Despite clear warnings by the Archaeological Society of India outside the mansion where the Ragini MMS incident took place, Rocks insists on using the exact location for the shoot. Thus begins the unveiling of the secret behind the Ragini MMS incident.
Suhani Kanwar and Tanveer Bookwala pen a horror script worth being scared of when it comes to life onscreen. The writing offers much more than just horror. There's a lot of cunning cleverness in it as well where the writers oh-so-subtly take a dig at the entertainment industry and society in general. Then there's the brilliant tackling of the misconceived image of porn stars in our society, which has to be the highlight of the first half. A brilliantly penned portion delivered very impressively by Sunny Leone.
 And if you're sitting there's surprised reading comments on Sunny Leone's delivering of a scene then here's more. The woman oozes much more than sex appeal onscreen. And while this may come as a shock to many, Ragini MMS 2 objectifies her far less than Jism 2 had. She's got scenes to deliver and a role to perform that is of an empowered intelligent woman who's pretty sick of society misconstruing her character because of her profession. Of course we have the obvious issue with dubbing still. If makers are going to get into the habit of getting actresses who's real voices they don't want to use, they really ought to search out worthy dubbing artists. (Learn from our South Indian counterparts!)
Apart from Sunny the film belongs to Parvin Dabbas who is a constant scene-stealer! He unabashedly embodies the part of a sleazy, idiotic and egoistic director. Inhibition was something that not only Parvin but all supporting cast in the film strongly endorsed. Karan Mehra leaves no stone unturned in playing the over-the-top wanna-be flop hero. Whilst Sandhya Mridul takes you by complete surprise by doing one of the most unsophisticated roles of her career. One you'd expect to see her least in but one that she pulls off with utter perfection. Divya Dutta does not get too much scope but is great as the poised psychiatrist with a knack of dabbling in supernatural cases. Saahil Prem unfortunately sticks out like a sore thumb. The actor looks out of place and frankly, lost! Doesn't help that romantic angle to which his character contributes is the worst penned moment of the film that the editor ought to have chopped.
Music of the film is kept to a minimal use in the screenplay, thankfully. Baby Doll works as Sunny's introductory song so you don't mind it too much but Maine Khudh Ko is a complete deal breaker which ought to have been skipped on.
Apart from song placements the writing suffers from one particular portion post interval that is completely un-needed and is a means to an end, being the makers want to deliver shock value. Yes I'm talking about the drinking game sequence with the much talked about Sunny-Sandhya kissing scene. Kudos for the ladies for being bold and more power to them. But you can't help but conclude that the portion itself along with the entire drinking game sequence is the culmination of very debatable writing, in particular the dialogues possessed-Sunny delivers. Surely the writers could have come up with a more impressive way to deliver the message that Sunny is now possessed.
There's no doubt that Ragini MMS 2 has several writing flaws however you cannot deny that overall it more or less delivers what it promised. Its sexy, its scary and it has a mystery that although predictable in some aspects remains unpredictable for the larger part. Sunny Leone scores a role that gives her something to do more than just look hot, particularly in the climax portion where she's at her unattractive best. If you judge this movie by its poster and trailers you're likely to get your tickets worth and come back having had a good laugh and a good scare, such is the novel writing at many portions. An entertaining supporting and a mystery that draws you in instantly are the biggest plus points of the film. It is definitely one of the better attempts of horror our makers have had in recent years.