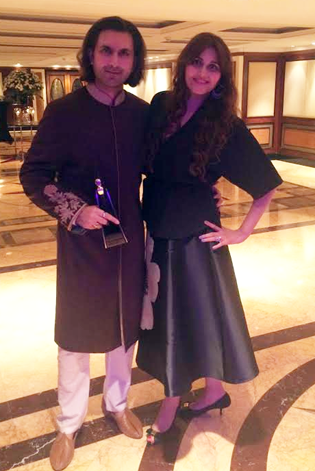 The talented musician Rahul Sharma, son of acclaimed santoor maestro Pandit Shivkumar Sharma, has always been known for his stylish look at his musical concerts so much so, that he won the HT Most Stylish 2016 Award for 'The Most Stylish Music Personality' in the Non-Film category.
The musician, who is doing a stellar job in carrying forward his father's legacy, is also known for his impeccable style all thanks to his fashion designer and wife, Barkha Sharma.
As they rightly say, behind every successful man, there is a woman, the woman here is Barkha Sharma. The talented designer, who only designs for men under her label 'Barkha 'n' Sonzal' alongside her sister Sonzal Patel, has been doing a fabulous job in styling her husband. She has been supporting him since 2008, designing all of Rahul's music album covers and his outfits, making him win the award of the most stylish musical personality by HT cafe. Rahul is often seen performing in classic sartorial kurtas, silk Nehru jackets and khadi, all of which are a reflection of his calm demeanor and personality.
Barkha has also lent her voice to Rahul Sharma's album "Spirutuale", reciting Rumi's poems, and also featured with her husband, in a Richard Clayderman music video from the album Confluence 2
With Barkha by Rahul's side, there's no stopping this powerful couple!