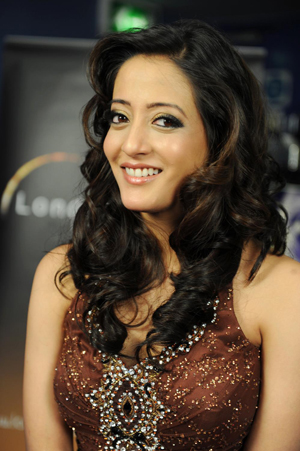 Bollywood actress Raima Sen was in London for the closing event at the London Indian Film Festival on Tuesday 3rd July.
Two of Raima Sen's Bengali movies, Abosheshey and Baishey Srabon where screened at the two week film festival, with the actress walking the red carpet for the UK premier of the Bengali thriller Baishey Srabon.
Held at Cineworld, Haymarket the red carpet event began with the announcement of this year's winner of the Satyajit Ray Foundation's Short Film Competition. The prize went to Neeraj Ghaywan, for his film Shor, which tells the tale of a husband and wife living in Mumbai's ghettos.
Baishey Srabon tells the story of two journalists and two cops chasing a psycho killer who is taking revenge in Kolkata, leaving behind couplets of famous Bengali poets as hints.
After the screening of the thriller, Raima Sen participated in a Q&A conducted by Life Goes On director, Sangeeta Datta. Bollyspice.com attended the Q&A where Raima talked about what attracted her to the script of Baishey Srabon, remaking her Grandmother's, Suchitra Sen, films and her next Bollywood project.
What attracted you to the script of Baishey Srabon?
The producers called me and said would I want to do this film with the director Srijit Mukherji. I wanted to work with him because his first film was Autograph, which was huge success, and I saw the film, and was actually a fan of his work so I said yes to the film without even listening to the script. He is extremely talented, is new and has great ideas. It was him that made want to do the film more than anything else. Then later came the script, which I thought was very different for Bengali cinema.  I was wondering whether a thriller would really work, because they haven't really but I think this is the first thriller that has worked in Bengal.
Has it set a trend? Are there more thrillers coming?
Yeah I am sure there are. This crossed all expectations I am sure after this there will be many more thrillers.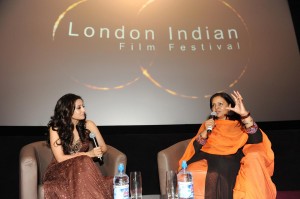 You tend to work a lot in ensemble films where there are many characters. Is that something you consciously choose? Have you consciously stayed away from the mainstream Bengali films?
No I haven't consciously stayed away but I think because of my first film Godmother, which was an independent film, people just see me in these kinds of films more than they see me in commercial sing and dance films. I just choose the best of what I have got. It's not a conscious decision; I have done a Bollywood commercial film, which will release this year with John Abraham. I am waiting to see how people will take me in that but I think people associate me more with serious cinema.
How do you prepare for your films?
I would say I am a director's actress. For me I would say he is the most important person he is the captain of the ship, so before any film I sit with my director for 3 days or 10 days or whatever is required, and we just read and read. That's how I do my workshops, just with the director, more than my co-actors. So basically with each director I am able to portray what he wants. So every film I am different because of the director, because they are completely different.
You come from a family where three generations of woman have been in the industry. Does your Grandmother's work inspire you?
I started watching her films more after I joined films. I loved the films that she did. She talks about her experiences, and she talks about all the funny things. It is great knowing it from her. Now people ask me to do remakes of her films and I am quite scared to do this as everyone watches her films, she is still such a legend in Kolkata, so doing a remake of her's I am quite scared to do but lets see. I am doing a remake of hers this year called Chandranath.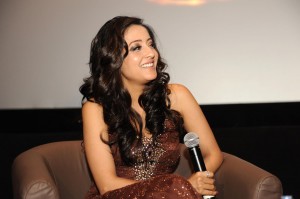 Is there a favorite film of your Grandmother's that you would like to remake?
They asked me this year to do a film called Deep Jwele Jaai. I don't think I could take the pressure of remaking that so I said no to that. But I am doing Chandranath as there is no print so people haven't seen it so I can afford to do that.
As an industry how have things improved for you as an actress in Kolkata?
Now I think Bengal is going through a golden period. I think now there is more awareness and more money. Films are doing exceptionally well, not only releasing in Bengal but nationally and then at these international festivals, so I think right now it is a great time for Bengal. In Bengal women are given a lot of priority, so films do work when they are woman orientated unlike Bollywood. I think it is great that new directors are coming up and there are new ideas. There are lots for women to do in Bengal.
What is the name of film with John Abraham?
I, Me Aur Mein. It is a typical Bollywood commercial film.