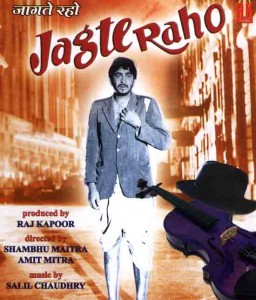 Leading Australian publication The Sydney Morning Herald has featured the English version of Bollywood showman Raj Kapoor's 1956 classic Jagte Raho among the 'Top 10 Films' playing in Sydney this month. The publication has listed Stay Awake (the 115 minute English version of Jagte Raho) as the second best film playing in Sydney.
Stay Awake has the legendary actor showing his gift for pantomime as a tramp who wanders into a Kolkata apartment complex in search of water and becomes the target of a neighbourhood witch-hunt. Directed by the team of Sombhu and Amit Mitra, this brilliantly developed comic nightmare works on several levels, from slapstick to religious allegory.
Other movies in the Top Ten list include Citizen Kane, The Hit, Fear And Loathing In Las Vegas, The Trip, Star Wars: Episode 1 – The Phantom Menace 3D, The Grey, Shallow Grave, Chronicle and the recently released and critically acclaimed black and white silent film The Artist.
"Brand Raj Kapoor has been one of the biggest and strongest in Bollywood ever. It must be a proud moment for the 50,000-odd Sydneysiders to see a Raj Kapoor movie with full-on critical acclaim after more than 55 years of its release in India," points out celebrity publicist Dale Bhagwagar.
"Over the years, Sydney has also proved to be an important destination for the Indian film industry with more than 230 films having been set in, or featured the city," adds the Bollywood PR guru. Many movies including Singh Is Kinng, Chak De! India, Bachna Ae Haseeno and Heyy Babyy have been filmed in Sydney, he points out.