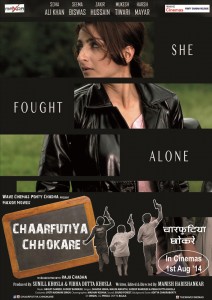 Director Rajkumar Santoshi launched the promo of Chaarfutiya Chhokare a film written and directed by his chief associate Manish Harishankar. "Everybody wants to make a debut with romcom or a comedy. It requires guts to make your first film as an entertainer with social message. Manish and producer Vibha Dutta Khosla should be applauded for making this as their first film," says Rajkumar Santoshi.
Event was attended by producers Sunill Khosla & Vibha Dutta Khosla, Soha Ali Khan, Lekh Tandon, child actors Harsh Mayar of I Am Kalam fame & Shankar Mandal, Director Manish Harishankar and music director Sudeep Bannerjee.
Produced by Sunill Khosla & Vibha Dutta Khosla, Hindi Feature film Chaarfutiya Chhokare is releasing on 1st August 2014. Its written & directed by Manish Harishankar and Wave Cinemas-Ponty Chadha is Presenting it in association with Raju Chadha.
As the plot goes, Neha is an NRI girl who is coming back to India to start a school in her parent's native village. Optimistic and happy about her endeavor, she is unaware of the hardships, obstructions and risks awaiting her in this small serene village.
Her meeting with three boys Awadhesh, Hari and Gorakh is pleasant and happy but it's the beginning of a nightmare. Hardcore criminals, these three boys become center of her activities. She vows to stops the criminal and sexual exploitation of children in the village. Her meeting with Janaki – mother of one of the boy, Awadesh- explains the deeply embedded political-criminal nexus in the system. Neha is resolute to free these three children from the world of crime.
Will she succeed or she will have to accept the terms and conditions set by criminals in the region? Will there be a revolution of change in this small village?
Star cast of Chaarfutiya Chhokare are Soha Ali Khan, National Award winner Seema Biswas & child actor Harsh Mayar (I am Kalam), Zakir Hussain, Mukesh Tiwari, Lekh Tandon etc. Cinematography is by V Bala, Editing by Avinash Walzade and Music is given by Abhijit-Sameer and Sudeep Banerjee. It's a Wave Cinemas-Ponty Chadha presentation.