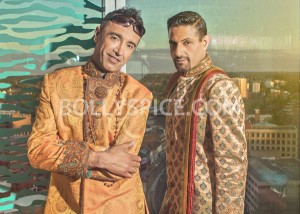 Hey BollySpicers – how are you all? – First of all thank you for all your messages – so glad you are enjoying our Bollyspice World!
It's been a hectic two weeks – and all systems go for us!
We absolutely adore the sensuous Sushmita Sen – she exudes a magnetism that is rare – both on and off screen. The former Miss Universe was on a whistle stop trip to the UK to help promote the cause of MP Keith Vaz's Charity Silver Star and in sparkling form. A diabetic ambulance from the charity will be sent out to Mumbai later in the year!
We always have no holds giggling chat with the superstar, who revealed she has been busy been a mother to her daughters – a teenager and a youngster and that her girls keep her on her toes! Sushmita is also busy with her I AM SHE foundation which she is developing into a global franchise – it's a beauty pageant with a difference as its main aim is to provide funds to empower girls in India as well as being part Miss Universe.
Sushmita has spent two years and extortionate amounts of money in developing her pet project Rani Lakshmi Bai – her cherished biopic on the Rani of Jhansi and told us she was disappointed that India was not ready for it. Indefatigable she is carrying on regardless and hopes it will see the light of day soon. And for all fans longing to see her back on the Silver Screen watch this space – Sushmita is considering offers and should be back in scintillating form in 2013.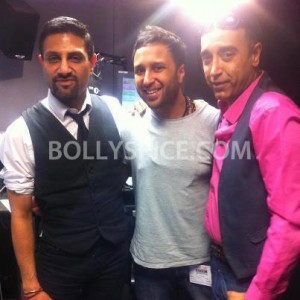 For all you "Aunty Ji's" out there we caught up with London Boy making waves in Mumbai – Ash King. He has been nominated for an IIFA and is still the down to earth lad who can't believe that his dreams are coming true. He still pinches himself when rubbing shoulders with the great and good of Bollywood. Ash is also a talented composer and working with producers from Nashville for his English album. AND yes we can't wait to see him at the IIFAs in Singapore.
Talking about the IIFAs we caught up for a delicious dinner in London with the IIFA winner Shibani Bhatija. She's the beauty with brains who wrote Fanaa, Kabhi Alvida Naa Kehna and My Name Is Khan. Shibani's in London writing her next script, and then jet setting to the Cannes Film Festival. Apart from laughter and gossip galore – Shibani told us London is the one place she loves to write but lamented at the change in flavour of her favourite Starbucks Coffee – it's just not the same. Shibani like Karan Johar lives on Starbucks while writing! Hope they change it back!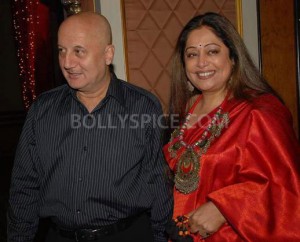 Anupam Kher is relieved that Mr Bhatti Ki Chutti finally got the go ahead for a release after being stuck for more than a year. The multi-talented thespian Anupam told us he is excited at bieng part of the prestigious HAY Literary Festival, which celebrates it 25th year. Anupam is excited about talking about his book the inspirational "The Best Thing About You Is You". He presented the book to Robert De Niro whom he co-stars with in The Silver Lining. Soha Ali Khan will also be attending the Festival for the screening of Rang De Basanti on 3 June. But will we ever see Anupam team up with Kiron Kher on screen – well he chuckled and said you never know!
Now for all you wonderful Bollyspicers for more from Sushmita; Ash and Anupam as well as the latest from Rajeev Masand do log on to our Love Bollywood BBC Asian Network Podcast.
Now the UK is a buzz with anticipation for the Olympics and we were honoured to host the first ever DESI MOVES DANCE COMPETITION on the day the Olympic Torch came to the UK Shores. As part of the Cultural Olympiad, Desi Moves was a dance competition where Bollywood met Street moves. The judges included Hritihik Roshan's winner Karan, singer FOJI and Choregrapher Honey Kalaria– and was a first for the UK! Bollywood Olympics here we come!
httpvh://www.youtube.com/watch?v=iBwVepAV87k
We are also gearing up for the IIFAS – to be held in Singapore and had a quick catch up with Sonakshi – who whispered she is excited about her performance- we can't reveal more. If any BollySpicers are going or are from Singapore make sure you say Hi to us!
This weekend sees the 2nd ever PAKISTAN FASHION WEEK with 30 of Pakistan leading designers showcasing their Autumn Winter Collections. Held over 2 days, 25- 27 May at London's Kensington Town Hall – it's going to be humongous! Check out more here
And YES there will be a Bollywood Twist! And for all Bollyspicers we have 5 tickets to give away – all we want to know is what is our T Shirt Label called! Email your jolly answers, along with your name to rajandpablo@aol.com!
We are also hosting the Pakistan Fashion Week After Party at our Raj&Pablo's Bollywood Nights@Chutney&Lager on SAT 26th May – do hope you can come!
And talking all things FASHIONISTA one of the things we revealed exclusively a few weeks ago to BOLLYSPICE was our stylist Zaheer Earbasher – well our wardrobes have been transformed and we took part in a wonderful photo shoot with the boys from Vivid Kingdom – here's a sneak preview – what do you guys think would love your comments!
For this weeks Raj&Pablo's Classic there was only one choice ! Now we shared our exclusive chat with Karishma last week all about her comeback well one of our favorite films is powerful Fiza – Jaya Bachchan and Karisma Kapoor both won IIFAS and Filmfare Awards for their power packed performances and Hritik made his mark in this movie set in the aftermath of the 1993 Mumbai Riots and was turning point. But for us one of the outsanding appearances was the magical Sushmita Sen in 'Mehboob Mere'. Enjoy!
httpvh://www.youtube.com/watch?v=5qSDPsqyrOg
Looking forward to hearing from all Bollyspicers!
And remember –
LOVE US , LOVE BOLLYWOOD – Love Bollyspice!
Raj&Pablo xx
Catch Raj&Pablo on:
BBC Asian Network – Love Bollywood
B4U – Bollywood Showdown ;
Qatar Airways – Raj&Pablo Bollywood World.
Raj&Pablo's Bollywood Nights
On Twitter – @rajpablo.
On Facebook – raj&pablo