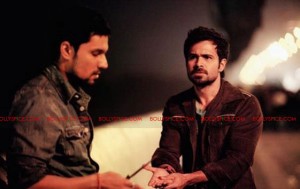 It's been another Bollywonderful week – they buzz for Jannat 2 is strong – it's a very engaging movie and the chemistry between Emraan Hashmi and Randeep Hooda is very strong! Emran was over the moon when we told him he's the first hero to have three consecutive blockbusters in a row. He is still very unassuming and believes he can only succeed if the script and direction is right. When we joked about who is the best kisser in Bollywood he laughed and whispered that it has to be him! Emran is looking forward to the release of Shanghai opposite Abhay Deol and says his fans will see him in a different light. One thing Emran does want to do is plan for a long awaited holiday with his family in Europe where he will switch his phone off for two weeks and be "normal" for a while. Watch this space as he is also going to announce his own production company.
One of the brothers behind the success of Vishesh Films is producer Mukesh Bhatt, the younger brother of renowned director Mahesh Bhatt and on our Love Bollywood Show on the BBC Asian Network he celebrated the success of Jannat 2 and told us that the best thing for him is to see his films appreciated by a world wide audience – despite the fact that the subject matters are bold and untypically Bollywood. He also exclusively revealed that Randeep Hooda will replace Emraan Hashmi in Murder 3!
And for all Bollyspicers who want that magical break into Bollywood do send your details directly to Mukesh Bhatt – he told us that Vishesh Films is always on the look out for new and exciting talent and believe passionately in giving new talent a chance – actors, writers and directors …mention Raj&Pablo …good luck!!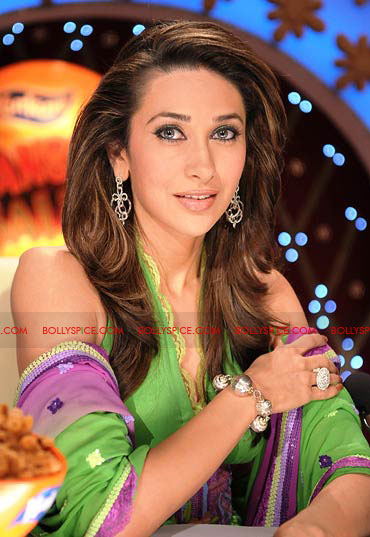 We are excited and disappointed for the release of Dangerous Ishhq – the long awaited return of Karishma Kapoor. Excited as it sees one of our icons return to the screen and disappointed that the movie won't have a worldwide release!…WHY??? We caught up with the wonderful Karishma and had a blast! She was her candid best and told us 'Dangerous Ishhq is about true life, my character goes through an experience and decides she wants to go through past life regression.' Here are some exclusive extracts from our interview, which you can catch on our Love Bollywood Show BBC Asian Network this weekend:
"You will all get to see me in a very different form, not in something that you've seen me do before…if I stepped into movies again I wanted it to be something different and D.I offers that".
Karisma told us that Vikram Bhatt had been after her for quite a while to play this role but she refused. She 'didn't want to work because her kids were really young and she wanted to concentrate on family and home'.
In response to calling this movie a 'comeback' Karisma says, 'The word 'comeback' only exists in India, frankly I was just on maternity leave' then goes onto to compare how Hollywood mums 'Angelina Jolie, Julia Roberts, Kate Winslet have multiple children and no one says anything, so the word 'comeback' is misused in India'.
On the first day of shooting Karisma revealed, "I was panic stricken, I was like oh my God where are my kids, I've been away for so many hours, but then everything fell into a rhythm. Personally I feel that as long as you have your priorities right, you can work and manage your family, you can do both. I did this movie also for my kids; I want them to know what their mother used to do. I've grown up in this industry and it's a part of me and moulded me so I wanted them to see that."
Zubeidaa was a turning point for Karisma's career, 'Yes, because it was a very difficult character, an intrepid character, someone who actually existed.' On working with Rekha Ji, Karisma says:, "It was fabulous because she has seen me as a baby, like literally younger than my children, so I was the baby on the set and she kept saying I can't believe I'm doing a film with you. In fact, my dad was shooting with Rekha Aunty the day before I was born!"
Karisma says, :My daughter thought that people came up to everyone's mama to take autographs, or everyone's massi to take autographs because that's what happens in our home. Then I had to explain to her we act in movies and now she's got a grip of it."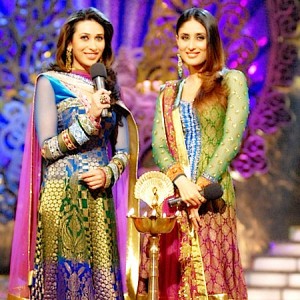 We asked about the Raveena and Karisma conflict debates earlier in their careers and now their children go to the same school. Karisma giggled and said, "Yeah, we were babies, literally like teenagers and today it's amazing how life has come round in a full circle and our kids are the same age and go to the same school, the mums attend the sports days together, it feels wonderful, we've actually become really good friends now."
Will we ever see Kareena and Karisma on the screen together? Karisma says: "We need to find the perfect script, we don't just want to make a project, we get offers all the time. We just need a good, right script and maybe who knows."
So where did the nicknames 'Bebo' and 'Lolo' came from? Karisma explained, "Oh my God, that's thanks to my parents and a family tradition with the really funny pet names with Dabboo, Chintu, Chimpoo, Lolo, Bebo. My mum is a Sindhi and she used to like Lolo – it's like a sweet Parantha, and also loved Gina Lollobrigida the actress and from there I got Lolo! And Bebo being a small baby I guess that's where Kareena got hers from."
London was abuzz this week with the Gala Premiere of All In Good Time at the prestigious British Film Institute. The movie, which is written by Ayub Khan-Din (East Is East) and directed by Nigel Cole (Calendar Girls) stars the wonderful Meera Syaal, Harish Patel , Reece Ritchie and Aamra Karan. A bittersweet look at the trials and tribulations of an Indian Family living in Bolton and how they cope with a marriage. Meera Syaal gives a poignant performance. Here's our exclusive chat with the magical Meera.
httpvh://youtu.be/Wv8rcpL8I98
This week's Raj&Pablo classic is just that – on of our all time classics Pakeezah. Now we've all seen Madhuri Dixit's tribute to the legendary Meena Kumari recently for her forthcoming Jhalak and we have to say she captures the essence of Meena Kumari.
httpvh://www.youtube.com/watch?v=h7BxvbLmS14
Pakeezah is one of the all time classics of Indian Cinema. Released in 1972, the film is about a courtesan and her doomed love and the real life story is just as tragic. Meena Kumari was married to director Kamal Amrohi and the film took 14 years to complete following their separation. Started in black and white it was stalled and only restarted when Sunil Dutt and Nargis saw the rushes and managed to convince both Meena and Kamal to complete the movie. Meena Kumari who was seriously ill agreed to complete the movie and died of cirrhosis of the liver weeks after the film was released. Meena Kumari designed all her own costumes and there are two versions of the soundtrack – the original for the black and white version and the later for the colour version. Do check it out on DVD you will be mesmerized and a big Raj&Pablo thank you to Madhuri!
Do let us know your thoughts!
Now we have some goodies for all Bollyspice Readers!
We will be hosting Pakistan Fashion Week in London 25 – 27th May 2012 at Kensington&Chelsea Town Hall London and have 2 Front Row Seats to give away!…
httpvh://www.youtube.com/watch?v=TZ5tayW0iqw&feature=youtu.be
All you have to do is answer the following question – What was Pakistani Star Ali Zafar's debut Bollywood Film? 1. Tere Bin Laden 2. Mere Brother Ki Dulhan 3. London Paris New York. Send your name and address with BollySpice London Faishon Week contest in the subject line to rajandpablo@aol.com!
And don't forget – Raj&Pablo's Bollywood Nights@Chutney&Lager on SAT 26th May –if you are in London do come down and shake your Bollywood Booty with us!
Also as you may already know, with the Olympics fast approaching we are delighted to be hosting Desi Moves as part of Dancing for the Games, inspired by London 2012 and part of the Cultural Olympiad in the West Midlands.
httpvh://www.youtube.com/watch?v=56cT6qGVboo
The Showdown is fast approaching on (Friday 18 May 2012) and we are anticipating a great show and are very excited for the night. Six fierce dance acts of Bhangra, Bollywood, Giddha, Hip-hop and Bashment styles will battle it out to claim the title of Best Desi Mover, a prize of £1000, an opportunity to perform at the Sandwell & Birmingham Mela in front of a 50k plus audience and that ultimate prize, the Desi Moves 2012 trophy. To find out more click here.
There will be an undoubtedly amazing performance from the Worlds #1 Micheal Jackson Tribute Act & Britain's Got Talent finalists Signature.
For all Bollyspice readers – we have 10 tickets to give away – All you have to do is answer the following question – Vaibhavi Merchant choregraphed 'Kajra Re' for Amithabh Bachchan, Abhishek Bachchan and Aishwariya Rai Bachchan – but what was the movie called? Send your name and address with BollySpice Desimoves contest in the subject line to rajandpablo@aol.com!
Looking forward to hearing from all Bollyspicers!
And remember – LOVE US , LOVE BOLLYWOOD – Raj&Pablo xx
Catch Raj&Pablo on:
BBC Asian Network – Love Bollywood
B4U – Bollywood Showdown
Qatar Airways – Raj&Pablo Bollywood World.
Raj&Pablo's Bollywood Nights
You can follow Raj&Pablo on twitter – @rajpablo.