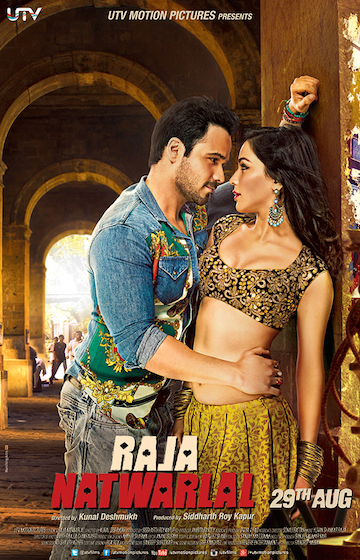 UTV Motion Pictures presents Raja Natwarlal – a con film directed by Kunal Deshmukh that will keep you guessing till the final stage is set for the biggest con of them all.
Synopsis
Raja and Raghav are partners in crime who hustle their way through the city of Mumbai and live off their meager cons. During one such con, Raghav is murdered and Raja's life takes a grave turn instigating him to avenge the killers of his best friend and partner. On his journey of revenge, he decides to team up with Yogi who is a senior con artist but has been on a self imposed sabbatical. Raja after much persuasion is able to convince Yogi that its imperative for him to avenge his partner's death and the person responsible is an influential and powerful man named, Varda. Along with a team, Raja and Yogi work together to pull of one massive con that will bring all of Varda's riches and reputation to the ground. They face many twists and turns leading up to the final stage; but do they make it or will the final con act fall apart for all to witness?
Runtime: 140 mins (approx.)
Genre: Con Revenge Drama
Producer: UTV Motion Pictures
Distributor: UTV Motion Pictures
Direction: Kunal Deshmukh 
Cast: Emraan Hashmi, Humaima Malick, Paresh Rawal, Kay Kay Menon
Screenplay: Parveez Shaikh
Director of Photography: Raaj A. Chakravarti
Music: Yuvan Shankar Raja
Editor: Anand Subaya, Manan Mehta
Production Designer: Mayur Sharma
Sound Design: Shajith Koyeri
https://www.youtube.com/watch?v=sf1BsDj8Huk
The film is releasing worldwide on August 29, 2014.