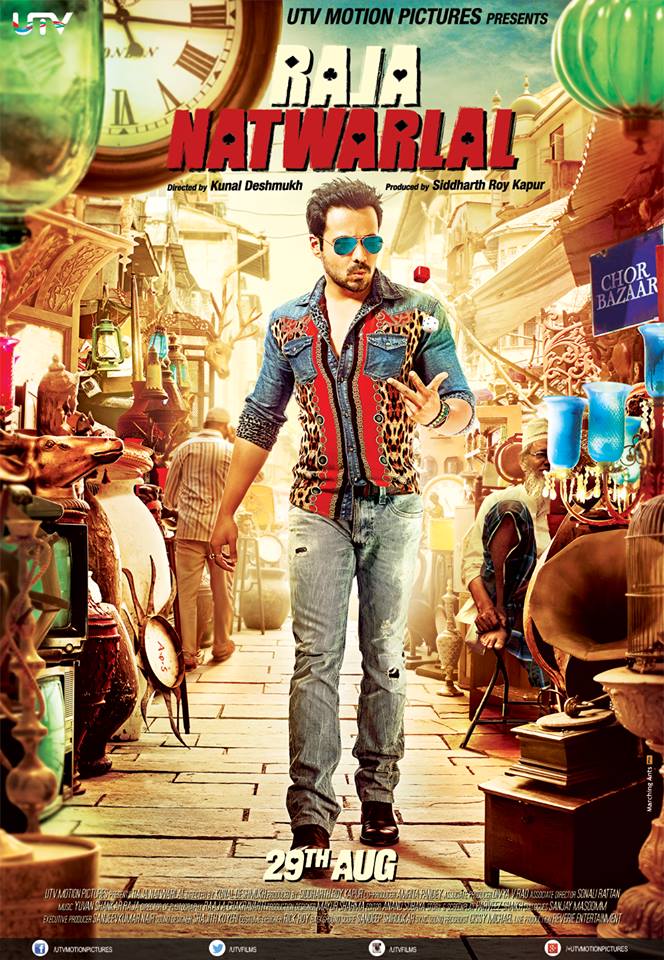 Emraan Hashmi is back on the big screen playing a con man in the thriller Raja Natwarlal. Directed by Kunal Deshmukh and also starring Humaima Malick, the film hits theaters on August 29th. Composer Yuvan Shankar Raja was brought on board to create the sound of Raja Natwarlal and he used some of the best singers in the business. So did the music match up to the brilliance of the vocal lines? See what we thought!
Tere Hoke Rehengay features the brilliant vocals of Arijit Singh and once again he manages to impress with the passion he puts in every note. The beginning of the piece starts out with almost a jazz piano riff, which is very cool. Singh joins in the music and while the two separate parts are brilliant I am not sure they mixed. In fact, to my ear, they almost fought each other with the laid back piano and the wailing (in a good way) echo-y vocal. The song transposes into more of a straight up modern beat, which is nice and does match his vocal better, but it seemed to be a pretty standard backbeat. The electric guitar was a nice addition if a bit out of place. Then we have a few notes of a Spanish flavored acoustic guitar and at one point a full orchestral section. I think song was very confused and it made me very confused. By the end, I wanted to go back to the cool piano at the beginning and just listen to that. Maybe it will play well in the scenes of the film. I say just listen to it for Arijit Singh.
There is also a reprise, which has a completely different musical space. In the first main section, the reprise features the gorgeous Shweta Pandit accompanied by a simple acoustic guitar line, and as you know if you read my reviews, I love that. It then goes the wrong way and layers of different styles, effects and musical lines are added in and it is too much. You want to keep it on for her amazing vocal but you want to turn it off for most of the music. Try it for Shweta's lovely voice!
Up next is the upbeat Namak Paare sung by Mamta Sharma and Anupam Arnod. Mamta Sharma sounds great and gives a nice spicy inflection to the beat of the vocals. The music is interesting and matches up to them pretty well, but I wish it had kept more of the stronger percussion because that was really cool. Anupam Arnod is great addition with his rough and strong vocal. There was not nearly enough of him, I would have loved to hear more. Is this a song I would play over and over? Probably not, but it is good. I think it will play well within the movie. Again the singers make the song so give it a spin for them!
Dukki Tikki starts with a very eclectic and not in a good way mix of musical styles. It was not at all what I expected for a Mika Singh song but I hoped it would transpose into something less convoluted and layered but it did not. There is way, way too much going on musically. I do have to say there are some good refrains and stanzas here and there like the bass riff but overall I wanted to turn it off. Mika Singh is fab but the music is such a distraction that he gets lost. This one is a skip.
Starting off with a jazz infused beat Kabhi Ruhani Kabhi Rumani makes you sit up and take notice. Then you add in the fabulous Benny Dayal and your ears are very happy. With a refreshing chilled out groove I really liked this section of the song. But then, and this not a totally bad but then, it morphs into a more full on Indian flavored beat, which is good but you wonder why. Of course Benny Dayal keeps up his excellence and transposes to this musical style as well. There is also a third section of more of a modern synth backed music and once again Dayal hits all the right notes. The three don't really work together but I would listen to each section as its own song. Overall, it is a great track and the best on the album. Must listen for Benny Dayal.
Benny Dayal is back with a new flavor with the peppy Flip Your Collar Back. A dance mix at its core the mix does not work. Though I admire the attempt to make a different sound this track misses in so many parts. Are there some good sections musically? Yes, when there is not to many tracks laid down over another but there are parts, that just made me shake my head and not in a dance-y way.
Give 'Tere Hoke Rehengay' and its reprise a listen for Arijit Singh and Shweta Pandit and add 'Namak Paare' and 'Kabhi Ruhani Kabhi Rumani' to your Bollygood playlist. It is the vocalists that make this OST, but the music really lets them down and lets us down as well.