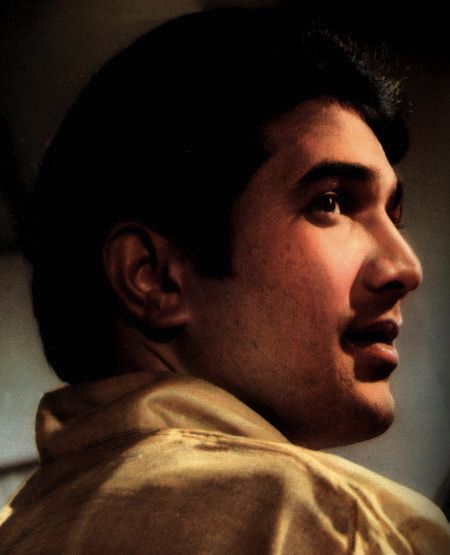 It is with sadness we must report that Rajesh Khanna, the first superstar of Bollywood, passed away this morning at the age of 69. The actor had been in and out of hospital in recent weeks. The cause of his health problems was unclear.
Khanna passed away in the presence of his ex-wife Dimple Kapadia, daughters Rinkie and Twinkle, son-in-law Akshay Kumar, grand children and close relatives.
Fans and celebrities, Amitabh Bachchan, Jeetendra, Rakesh Roshan, Shah Rukh Khan, Anu Malik, Khayyam, Randhir Kapoor, Ismael Darbar, Salman Khan, Katrina Kaif, all visited his home on Carter Road today.
Son-in-law Akshay Kumar spoke to the media outside Khanna's residence. "He has gone to a very nice and heavenly place. We are very happy that he had gone there. I hope everybody there, whoever is watching him, can just say a little prayer for him."
Rajesh Khanna, also referred to as Kaka, was known for his romantic films which became huge hits during the 60s and 70s. He started his acting career in 1966 with Aakhri Khat. He became a celebrity after he was seen in Raaz, Do Raaste and Aradhana. He became the first ever superstar of India after he was seen in 15 solohits between 1969 – 1972. The actor was seen in over 173 films.
During the peak of his career there were several reports on woman who used to write letters to him in their blood, kiss his car and marry his photographs. Khanna had a huge fan following and was mobbed by fans whenever he appeared in public.
In 1973 Rajesh Khanna married Dimple Kapadia, who was 15 years younger than him. They had two daughters, Twinkle and Rinke. In 1984 they got divorced.
He was last seen in public during the Apsara Awards 2012 where he received the Lifetime Achievement Award for Major Contribution to Indian Cinema.
Of course Bollywood reacted to the death and prayed tribute of one of Indian cinema's finest
Minister Manmohan Singh
"The Prime Minister condoles the passing away of cinema personality, entertainer and former Member of Parliament, Shri Rajesh Khanna."
Anupam Kher
Rajesh Khanna was LARGER than life. He was a King who gave Indian Cinema glamour, style, and substance. We will Miss you Sir.
Madhuri Dixit
Another of Hindi cinema's giants passes, Rajesh Khanna. Our sincere condolences to his family. We will miss him dearly.
Shah Rukh Khan
To live with intention and walk to the edge. Play with abandon, choose with no regret. Smile & made us do the same.Sir,u defined our era. Mom & me use to sit & watch Mr.Khanna's films back to back Whenever life felt tough u made us feel how love could change it. will miss u:SRK
Shahid Kapoor
RIP to the 1st king of romance …… Rajesh khanna ……
Jaya Prada
I was in touch with Dimple on his health. Rajesh Khanna will be close to the nation's heart.
Saira Banu
It is a terrible day for the industry and all of us
Sharmila Tagore
He was an amazing actor
Raj Babbar
A nice person, a wonderful actor, he was a superstar and he is a superstar. He- never been into any controversy
Prem Chopra
He was a great person to work with. I have done more than a dozen films with him. He was a real superstar of that era
Vivek Oberoi
India's 1st superstar is no more but his legacy will live on! Rajeshji's movies will always remain a fond childhood memory.RIP Rajesh Khanna
Om Puri
He was perhaps the biggest superstar of that era
Vishal Dadlani
"Rajesh Khanna inaugurated a park in Khar, in the 70′s.IT'S STILL CALLED RAJESH KHANNA GARDEN!Always will be! Official name became irrelevant!"
Neha Dhupia
"RIP Rajesh khanna Saab … U , ur stardom, ur magic will live forever!"
Riteish Deshmukh
Women kissed his car n turned it red with their lipstick marks- such craze will never b witnessed-RIP Rajesh Khannaji-India's 1st Super Star
Abhijeet Sawant
R.I.P Rajesh khanna saab.. U r the inspiration of the superstar.. And will always remain..
Kailash Kher
Superstar of our fathers generation is gone from this world, he was beyond ths word called(Actor) true Icon World will miss forever, prayer. Jinke Naam par karodon logo ne apne Bacho ke Naam rakhe Rajesh toh ek baat kaio ne khanna tak rakh dala, wt a charisma, God Bless his soul.
Siddharth
Superstar Rajesh Khanna has left us:( so many films, songs and memories…r.i.p sir.
Ali Zafar
Rajesh Khanna- R.I.P. So many fond memories from his movies and songs.
Resul Pookutty
Just got back to India this morning, woke up to the sad news of Kaka's demise.A colossal loss2 Indian cinema!you will be remembered forever!
Farah Ali Khan
RIP Rajesh Khanna. Another legend passes away. A sad day in Indian cinema.
Aftab Shivdasani
A legacy leaves us.. Rest in peace Shri Rajesh Khanna.. Prayers for his soul.
Kunal Kohli
The word SuperStar was used first for Rajesh Khanna.His style.His Ada.His charm.His smile.His songs.His films. He.Will always live on
Ayesha Takia
So beyond sad 2 hear of the passing of Rajesh khanna ji. Let us all pray for his family,so they may get strength.RIP Rajesh Khanna ji.
Rituparno Ghosh
Pyar ki duniya mein, khush rahena mere yaar! RIP Rajesh Khanna
Karan Johar
the magic…the mannerism…the mania of RAJESH KHANNA is inscribed in every archive of indian cinema…forever….RIP SIR!!!
Rajat Barmecha
You have taught ppl what Stardom really means…Have seen no bigger star than you…Thank u for all the wonderful films…RIP
Divya Dutta
Rip rajesh khanna! t very endearing superstar of indian cinema who brought romance a new meaning on screen! You'll b terribly missed kaka ji
Shabana Azmi
He was d SUPERSTAR like no other Did 10 films with him Met him last at Apsara awards Pale shadow of himself but smile as winsome RIP RajeshK
Sonu Nigam
Rip Rajesh Khanna sir. To Sir with Love.
Shekhar Kapur
2 young.2 early.Tragic. #RIPRajeshKhanna. A candle that burned brighter than any star for 2 short a time
Jackky Bhagnani
RIP Rajesh Khanna saab a true legend d biggest star india has ever seen . We will miss u sir
Shreya Goshal
R.I.P. Rajesh khanna
Manish Malhotra
RIP superstar RAJESH KHANNA: his movies, songs and mannerisms will always be cherished and remembered.
Pitobash Tripathy
There are superstars and there will be superstars…but if u ever ask the meaning of superstar in India, the answer is Rajesh Khanna (Kaka) #RIP
Farhan Akhtar
Rajesh uncle, thank you for the movies, the music and the memories. You live on in our hearts.
Also check out @rajpablo's twitter timeline and Facebook (https://www.facebook.com/rajpablo) page for a beautiful tribute with many of Mr. Rahul Khanna's outstanding songs!
Mr. Rajesh Khanna may be gone but his legacy will live on! Our prayers and thoughts are with the family. May he rest in peace!