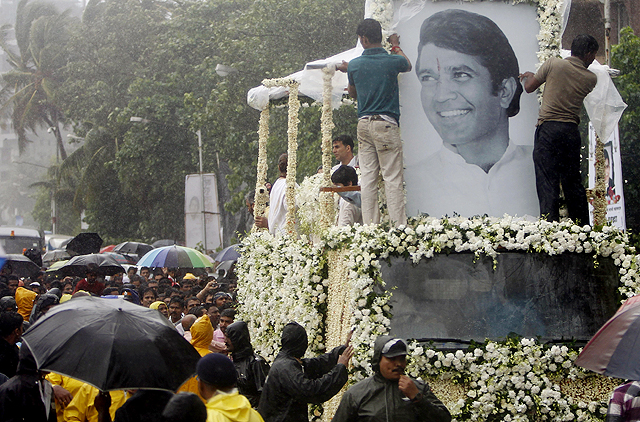 This morning Rajesh Khanna, Bollywood's first superstar, made his final journey. The funeral procession left his home Ashirwaad in Bandra at 10am in the morning. Akshay Kumar and Khanna's other son-in-law Sameer Saran took care of all the funeral arrangements.
Khanna's body was taken to the cremation ground enclosed in a glass casket, which was covered with flowers and placed in a small truck. And even though Khanna had not been in the limelight for many years, his procession created the mass hysteria that one remembers Rajesh Khanna for.
Thousands of fans lined up on the sides of the streets in the heavy rain to catch a glimpse of the legendary actor, who passed away Wednesday at the age of 69 after a prolonged illness. While some fans were seen folding their hands when the truck passed them, others were throwing flowers to pay their last respects to the superstar.
The family, excisting of Dimple Kapadia, Akshay Kumar and son Aarav, Rinke Khanna and husband, were seen on the beautifully decorated truck. Missing was elder daughter of Khanna, Twinkle Khanna, who had been advised to rest as she is pregnant with her second child. It is not known if she was present at the cremation ground.
The cremation remained a private affair as the press was specifically asked by Akshay Kumar to not film the ceremony. Several Bollywood celebrities were present at the cremation ground, such as Manoj Kumar, Amitabh and Abhishek Bachchan, Shakti Kapoor, Anu Malik, Sajid Khan, Randhir Kapoor, Kabir Bedi, Mukesh Tiwari, Aftab Shivdasani, Shekhar Suman, and Abbas-Mustan. The pyre was lit by Khanna's 9-year-old grandson Aarav, with the help of his father Akshay.
Rajesh Khanna's death came unexpected for many people. But somehow he felt that this was the end. His last words reportedly were "Time up ho gaya, pack up". This was revealed by none other than Mr Amitabh Bachchan and a fitting final exit line we must say. May he rest in peace.