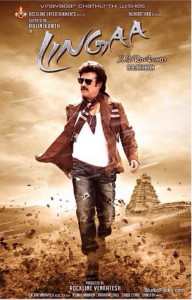 It was just revealed that Superstar Rajinikanth's next, Lingaa, has been sold to Eros. Well, we have more exclusive bit on it. Apparently, the deal has been struck for a price of over 100 crore. What is all the more significant about this deal is that no profits have been added on the table by producer Rockline Venkatesh and the amount is basically just the cost of production.
"This is smart business, it is as simple as that," says a trade source, "No one is under any pressure now and instead of table profits, it is longevity of a film due to its commercial content that is being relied upon. Rajinikanth has always been known for making sure that all involved with his films, whether it is producers, distributors or exhibitors, make money. A deal like this for Lingaa is another step in this direction."
The film, which is set for release this December, also gains from the fact that it has Sonakshi Sinha as a leading lady in it. Since she has massive popularity across the country, the film's Hindi version is much awaited too. On the other hand Telugu superstar Anushka Shetty is another leading lady which further allows Lingaa to find added audience in Telugu belt.
We tried contacting Eros but they were unavailable for comment.