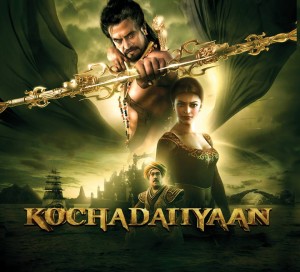 Superstar Rajinikanth's Kochadaiiyaan, India's first photorealistic performance capture film, will premier on ErosNow tomorrow, i.e. 28th June. Directed by Soundarya R. Ashwin, the film not only marked the comeback film of the legendary actor after a short interval, it is also considered as India's official entry into the motion-capture space.
While internationally the film is premiering on ErosNow tomorrow, in India it would be post 16th July.
Confirms the spokesperson from Eros, "If you're a Rajini fan, this movie is most definitely for you. But even if you're not, watch it for its daring attempt at a novel concept and new technology, and for its promise of strongly placing the flag of Indian cinema on the world map! The idea is to bring the worldwide online premier of this magnum-opus, exclusively on ErosNow, where viewers across the world will get to watch it FIRST before any other platform after its theatrical run."
The film is releasing a month after its theatrical arrival which saw Rajinikanth's ardent fans bathing his posters with milk in order to show their love and respect for him. On its curtain raiser event, even Amitabh Bachchan was highly moved and went on to state on record that "On the 100th Year of Indian Cinema, when the history of India will be written, it will be before Kochadaiiyaan and after Kochadaiiyaan".
The spokesperson adds, "The film has found wide acceptance across the world amongst critics and audiences alike. It is truly a remarkable film that has opened our cinema to new possibilities, and created characters and canvases that are larger than life and timeless."
In addition to the movie, ErosNow would also exclusively feature videos, songs, making-of & behind-the-scenes of Kochadaiiyaan. Some of the other films across varied genres which have been made available are Main Tera Hero (comedy), Dishkiyaoon (action), Dekh Tamasha Dekh (indie) and Purani Jeans (romance) amongst others.