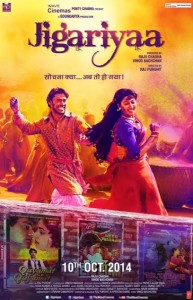 Raj Purohit's Jigariyaa, produced by Vinod Bachchan of Tanu Weds Manu fame, is all set to launch two new faces, Harshvardhan Deo and Cherry Mardia. The film's trailer has already impressed Action-king Rohit Shetty and now one more name has been added to their fan-fare of well-wishers, filmmaker Rajkumar Hirani.
Rajkumar Hirani says, "Almost one and half year ago, Harshvardhan came to me and told me I am an actor and want to work in films. As we all know it's difficult to get work in industry I suggested him to focus on his talent and eventually he will get work. While leaving he told me he will become a good actor. After that he always kept me updated about his work. Few days ago he came to me with his new film's trailer, Jigariyaa, and when I saw it I was really glad."
He further adds, "I belong from small town that's the reason I can relate with Jigariyaa. In the film's trailer I can sense the small city's fragrance, which has attracted me to it. I really loved the trailer."
"After watching the film's trailer, I met the film's director Raj Purohit and producers Raju Chadha and Vinod Bachchan. After seeing the premise, I felt they have worked passionately and that time I decided I would see the film once it's completed. For now I would like to wish all the best to the film team members and lead pair of Jigariyaa," concludes Rajkumar Hirani.
Wave cinemas Ponty Chadha present A Soundarya Production's, Jigariyaa, directed by Raj Purohit, produced by Raju Chadha & Vinod Bachchan, starring Harshvardhan Deo and Cherry Mardia, is slated for 10th October 2014 release.