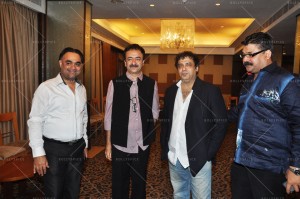 Celebrated filmmaker Rajkumar Hirani today, in one of his fewer appearances at a filmi event, launched the music of Girish Malik's highly anticipated film 'JAL'. While Saga Music has been signed on as the films music partner, it will be digitally distributed by sister concern Unisys InfoSolutions. One of the key highlights of the evening was a special performance by the film's debut music director duo, comprising of the legendary singer Sonu Nigam and world renowned percussionist and table maestro Bickram Ghosh.
Held at a suburban stared hotel amongst much fanfare, the special event was attended by the film's Director-Producer Girish Malik, Producers Puneet Singh and Yogesh Mittal, Co-Producer Ajay Swami, Associate Producer Arun Tyagi, Mr. Diljit Singh – VP-Technology Unisys Infosolutions and Mr. Gaurav Arora – Head- Mobile Business Unisys Infosolutions, Writer Rakesh Mishra, its cast Purab Kohli, Kirti Kulhari, Mukul Dev, Saidah Jules and Yashpal Sharma, and esteemed members of the media, amongst others.
Talking about the music in the film, music director Sonu Nigam said: "When Bickram and me decided to turn music directors, it was very clear that though there were many films from which we could choose from, what we would only associate with a film which would not just have a strong script but would also have music as an integral part. When it came to JAL the choice was thus natural, not just were we both really moved by the concept and planned scale of the film but also with Girish Malik's vision and passion for the film. It also was the right platform to introduce the new sounds and music design that both Bickram and I were very excited about"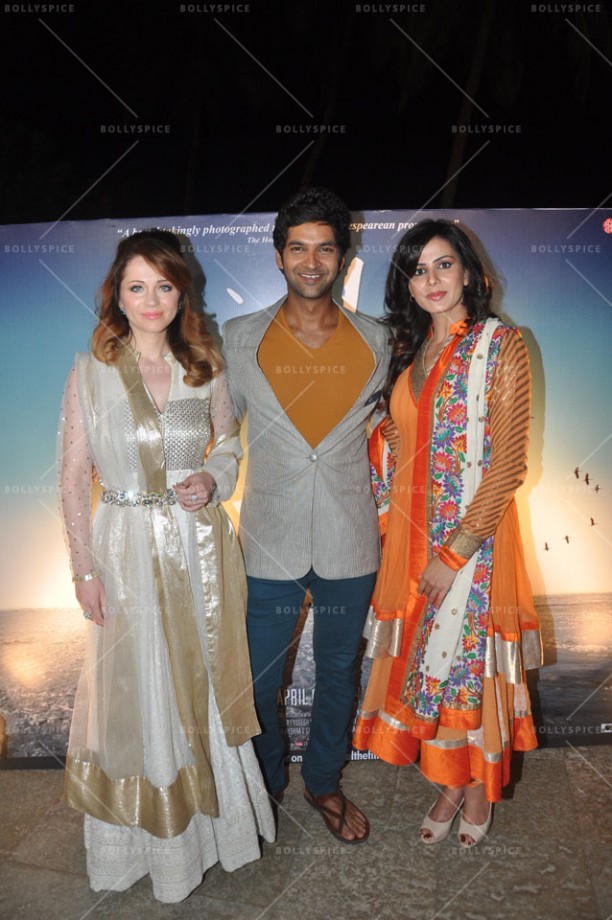 A lot of research has gone into film's music. For example, the film has a larger than life visual of a twister formation that is first you will see on Indian screen, the sounds for that had to be on the level of a symphony but not western at the same time. The background music of the film took almost a year to be completed. It is a very tough film to do backgrounds for as the film has the sounds of nature and a larger than life drama yet in a commercially entertaining mould. We could not have pulled this off without the immediate connect and an absolutely clear understanding of what he wanted. The understanding was so clear between the three of us that Girish immediately fell in love with the musical palate we presented to him," added Bickram Ghosh.
The films music is a piece of art and a central element of the film. It is inspired by the Rann of Kutch, where the film was shot. The music directors have taken immense inspiration from local Kutchi folk music fusing it with classical and soft rock elements, in addition to Bickram's brilliant percussions. The album consists of 3 songs, each of which is of a differed genre. The music director duo has also recorded a promotional track 'Zalima' which is sung by Sonu Nigam himself introducing a completely new sound. Additionally, the album has songs sung by some of the most celebrated singers of the country including Sonu Nigam, Shubha Mudgal, Ustaad Ghulam Mustafaa Khan and Suzanne. Most of the lyrics have been penned by Sonu Nigam himself.
On the occasion director Girish Malik said: "The visual treatment of the film is epic and surreal and the music had to compliment it. In my search for the sounds of JAL, I came across the percussions of Bickram Ghosh where he had collaborated with musicians like Pete Lockett and Greg Ellis, who did the music for 300. At the same time, I had known Sonu Nigam separately and it was an uncanny coincidence that Bickram and Sonu were collaborating as music directors as well. The choice was natural and it was a real honour that of all the films that they could have chosen to start their journey as music directors with, they chose JAL."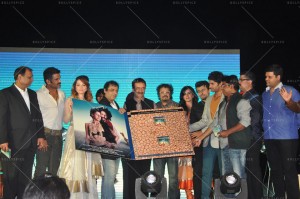 According to Mr. Diljit Singh, VP- Technology, Unisys Infosolutions, "We are excited to be the digital partners promoting the music of the movie Jal in the online and mobile space. India is an exciting digital-music market with digital music promotions becoming an integral part of any movie's global music launch strategy. In the first half of 2013, 45 percent of all album sales globally were digital, up from 38 percent the year before (Nielsen). We at Unisys are proud to be one of the pioneers in digital music in India with one of the world's biggest Indian regional music catalogue."
Produced by OneWorld, in association with Clapstem Productions and NFDC, and distributed by DAR Film Distributors, "Jal" is the story of a young water diviner, Bakka who is gifted with a special ability to find water in the desert. With the backdrop of water paucity, the film tells a complex and fascinating story of love, relationships, enmity, deceit and circumstances that bring about the dark side of human character. It is a high-octane, action- drama with a shocking climax. Shot on an epic scale, the film is a visual treat and has managed to capture 'Rann Of Kutch' like never before prompting even 'The Hollywood Reporter' to applaud Jal as "a breathtakingly photographed tragedy of Shakespearean proportions."
The film is scheduled to hit the silver screen on 4th April 2014. JAL stars Purab H Kohli, Kirti Kulhari, Tannishtha Chatterjee, Saidah Jules, Mukul Dev, Yashpal Sharma and Ravi Gossain amongst others. Furthermore, other credits include: Story & Dialogs- Rakesh Mishra; Screenplay – Girish Malik and Rakesh Mishra; Director of Photography – Sunita Radia, Sound Design- Sound Ideaz Studio, Action – Parvez Khan.
This slideshow requires JavaScript.